Modern science meets Far Eastern healing art – this is the unique COMO Shambhala concept of the noble COMO Group. The COMO Castello del Nero in Tuscany offers a very special experience, because here Italian culture and Asian rituals enter into an unusual symbiosis and create a holistic retreat that is unique in Italy.
On April 1, 2022, the sprawling property reopened its doors to wellness fans after the winter break. With thermal suites, ice fountain, sauna, steam bath and an 82-feet heated outdoor pool, guests can look forward to a holistic wellness experience.
Tuscan wellness retreat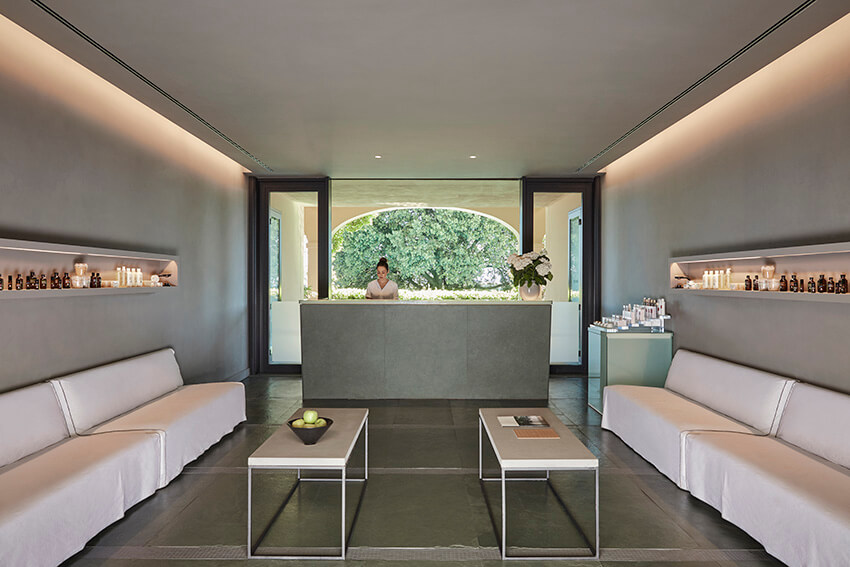 Fascinating rolling hills, gold-yellow fields, olive groves and green vineyards – an unforgettable play of nature's colors. Here, embedded at the heart of this historic 740-acre estate is the twelfth-century COMO Castello del Nero, layered with Renaissance frescoes and contemporary design. The highlight of the retreat is the 10,000-square-feet COMO Shambhala Retreat, where Bella Italia and Far Eastern rituals merge for a special relaxation experience. All of the treatment rooms and thermal suites at the 12th-century property feature design elements and the signature of Milanese Paola Navone, whose designs have brought the country estate into the modern era.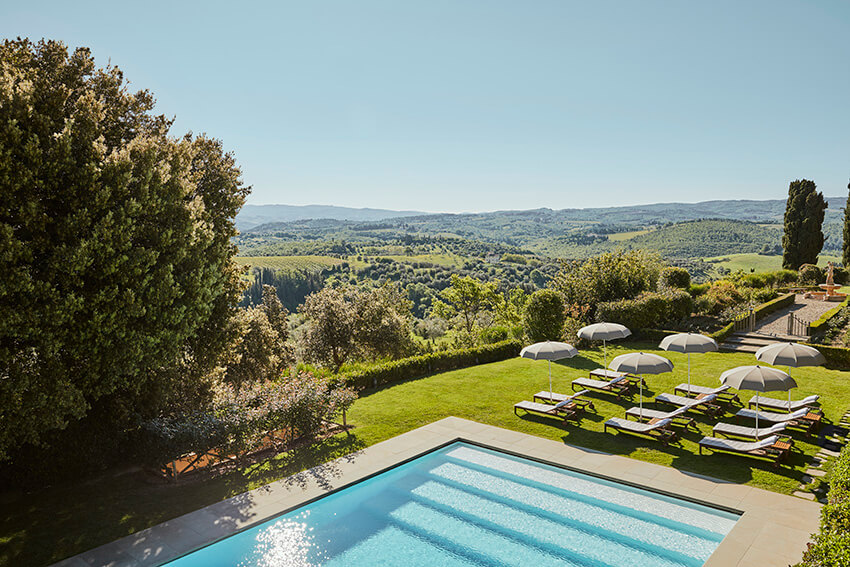 However, she deliberately draws the eye to the surroundings again and again, as the vineyards of the famous Chianti region can be overlooked from the ice fountain, the sauna, the steam bath and also the 82-feet outdoor pool. This idyll, coupled with the rejuvenating COMO Shambhala Cuisine, provides a revitalizing and rejuvenating experience in a class of its own through a variety of treatments and therapeutic therapies. The COMO Shambhala Retreat also offers a variety of daily classes that every guest of Castello del Nero can attend free of charge. Yoga, meditation, Pilates or fitness classes led by internationally recognized instructors proactively promote holistic well-being. A modern fitness room, light-filled yoga and Pilates rooms, as well as two tennis courts and an outdoor fitness area spur on the activation of physical health.
Wellness Cuisine Deluxe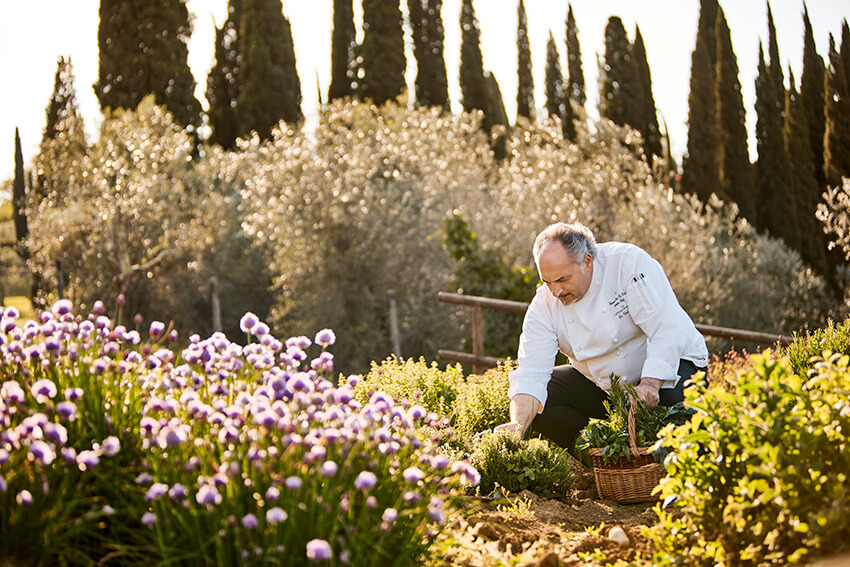 Buon appetito! The holistic COMO Shambhala approach offers relaxation for body and mind as well as a balanced cuisine with nutritionally balanced dishes. But if you think that diminishes the taste experience, you're wrong! All three restaurants at COMO Castello del Nero, one of which has even been awarded a Michelin star, rely on a blend of regional products that not only reveal new flavors, but also promote concentration and balance blood sugar levels. The result: fusion dishes like Tuscan vegetable stew with silken tofu, soba noodles with dulse flakes, or fresh salmon salad tossed with Italian herbs. The Tuscan environment and its own agriculture also supply the kitchen with wine, honey, olive oil or the coveted truffles. The star chef Giovanni Luca Di Pirro himself provides a long-term benefit: In his private cooking classes, he initiates guests into the secrets of Tuscan cuisine – healthy and balanced, of course. What never can be missed are the fresh herbs, which the top chef also likes to pick himself from his own garden to use in his dishes.
With Italy's spices to natural anti-aging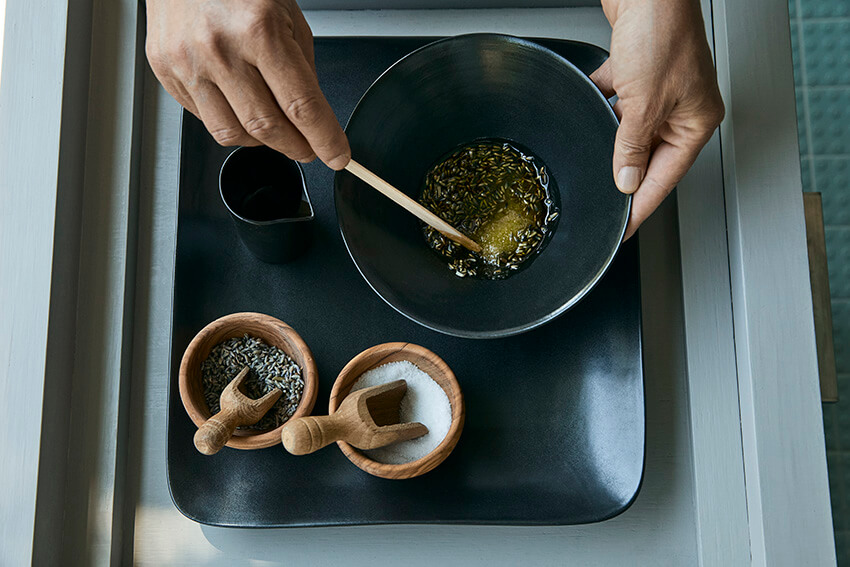 The holistic wellness concept at COMO Shambhala addresses all levels of well-being while making use of regional treasures. The COMO Shambhala Signature Ritual, for example, pampers guests with a full-body scrub made from sea salt and homemade olive and lavender oil from the hotel's own castle garden. To ensure that it's not just the Italian sun that provides a healthy skin tone, a skin detox is offered, with targeted massages to stimulate lymphatic flow. This not only improves the skin's appearance, but also gives it a healthy glow. A very special treatment has been developed by Jean-Daniel Mondin, Doctor of Pharmacy, who is researching new skin care products with luxury cosmetics brand Guinot. From Hydraderm Age Logic to Lift Deluxe and Cellular Energy, all treatments based on it provide rejuvenating results. Stimulating massages and facials reduce signs of fatigue and the aging process and achieve a firming, lifting effect.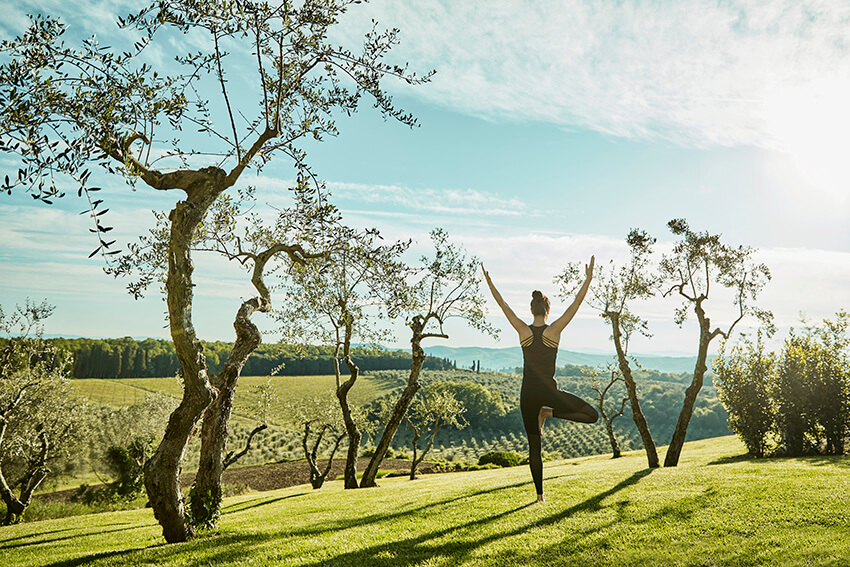 Sleeping well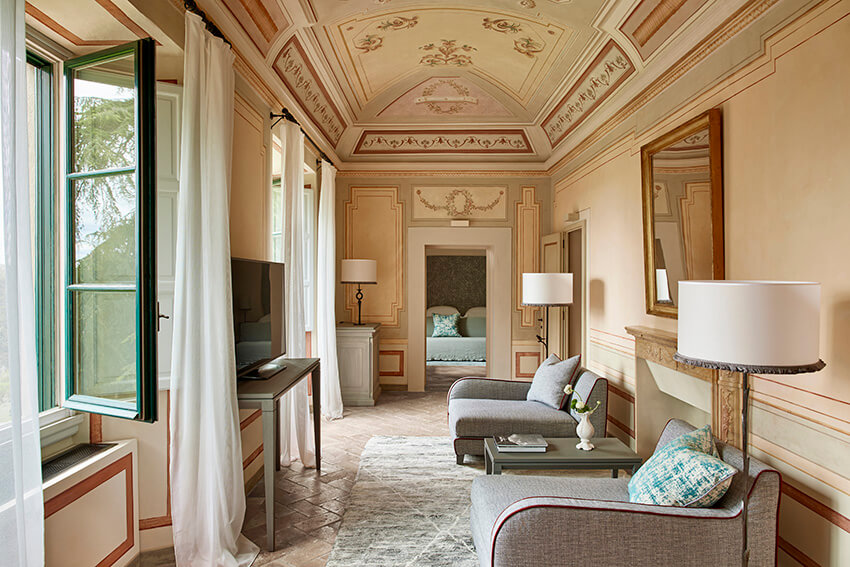 There are 50 rooms and suites at COMO Castello Del Nero, each designed by Paola Navone to reflect an airy, pared-back aesthetic. Interiors are spacious and cool-toned, with 19 Estate Rooms, 13 Tavarnelle Rooms, 10 Tavarnelle Suites, three Loft Suites and three Heritage Suites, many of which overlook the surrounding hills and lakes. The COMO Suite and COMO Terrace Suite offer the ultimate in Tuscan accommodation, with extensive living space, rare 18th-century frescoes, and panoramic views.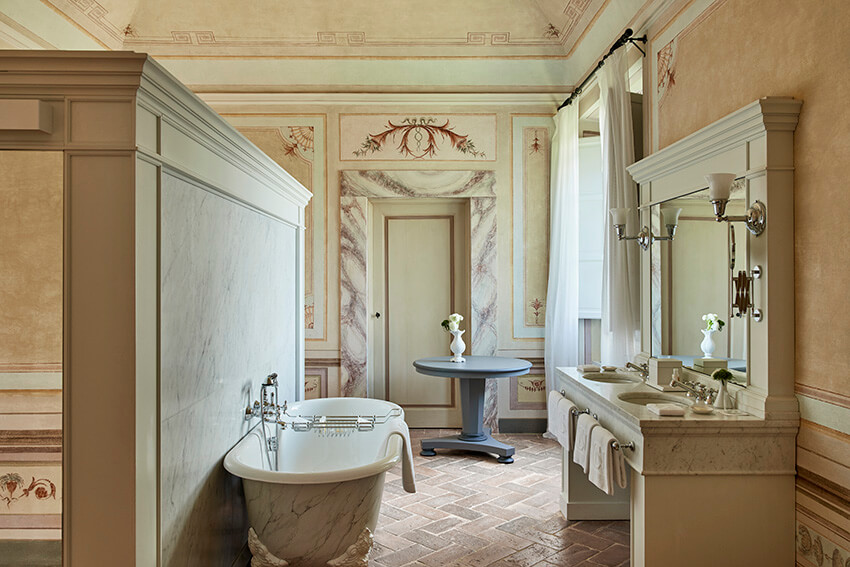 Time to explore
When you are not busy in the Spa, you can cycle through forests and olive groves, walk by towering vistas of vineyards and embark on Tuscan truffle hunting before learning to cook Italian specialties in cooking classes with Executive Chef Giovanni Luca Di Pirro. You can also try your hand at authentic experiences including gelato-making with an Italian master, hot air ballooning and winemaking, before retiring to your elegant suite – where the historical charm of the castle is blended with COMO's signature pared-back luxury.
Hidden among the rolling hills of Tuscany, COMO Castello Del Nero is in easy driving distance of the Renaissance cities Florence and Siena.