Daily life in Italian places is often filled with joyful design and unique masterpieces. Have you ever wondered which are the most colorful destinations in Italy? Here are just a few places that literally scream colorful Italy.
Cinque Terre has won, by far, the first place with its eight-color palette of Monterosso, Vernazza, Corniglia, Manarola und Riomaggiore. The centuries-old coastal villages are known for their colorful houses and terraced vineyards on the steep slopes. Five Ligurian villages overlooking the sea, with the triumph of Mediterranean scrub and colorful houses. For centuries, the villages could only be reached on foot or by sea. Cinque Terre is actually a National Park and a UNESCO World Heritage. A breathtaking view of the sea and the rugged coastline of this protected section of the Ligurian Riviera makes every hike an unforgettable experience.
Equally vivid are the colors that fascinate visitors on the lagoon island of Burano. It is one of the most densely populated islands in the Venice lagoon. And, it might be the most colorful island in the world. Burano is an island where many fishermen used to live. According to a local legend, they painted their houses in different colors so that they could recognize them from a distance while fishing. This way they could always return home safely even in heavy fog. No cars are allowed on the island and it can only be reached by Vaporetto (Water taxi).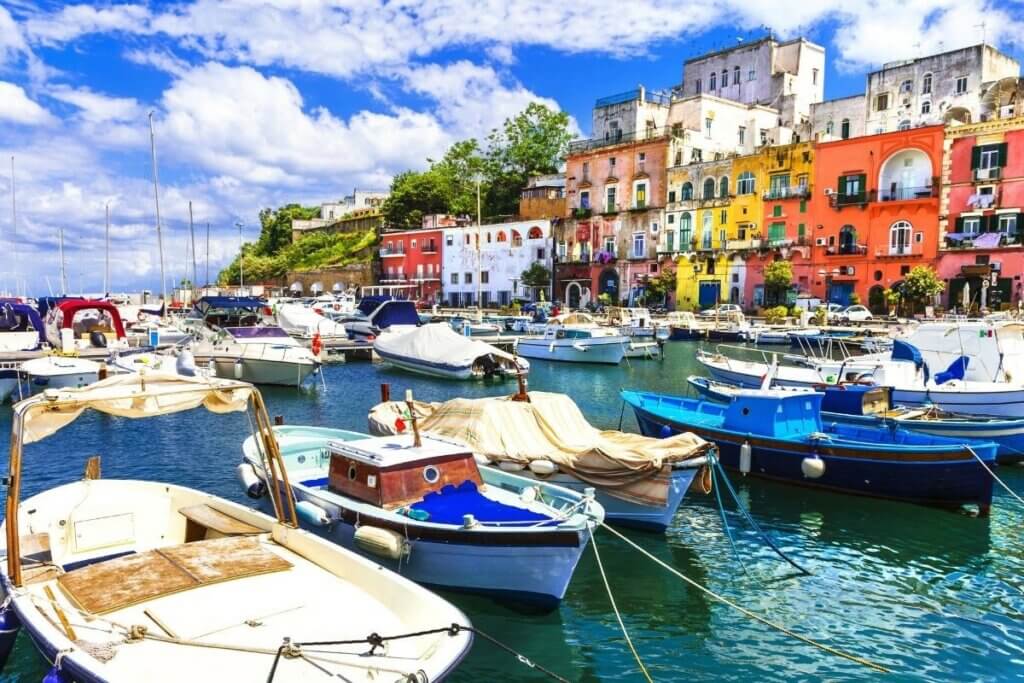 Procida is the new Italian Capital of Culture 2022. With its colorful houses and idyllic beaches, it has often served as a film set. Located in the Gulf of Naples, it can be reached from Naples in less than an hour's boat ride and delights its guests with picturesque villages, dreamy bathing bays and vegetation rich in cacti, fig and citrus trees due to its volcanic origin. With the title of Capital of Culture, the small island will attract wider attention. At the same time, in its role, it wants to be a symbol of slow tourism, with a focus on sustainability and responsible treatment of residents and the environment, away from mass tourism.