Hard Rock Café arrives in Verona with its unique blend of music, entertainment, American fare and iconic merchandise. The "City of Love" with its setting of Shakespeare's masterpiece "Romeo and Juliet" seems to be the perfect location. Music and art is an important part of Verona. The Hard Rock Café Verona is located on Piazza Bra, a stone's throw from the Arena – the oldest Roman amphitheater dating back to 30AD. It is still a live music venue today with a fantastic acoustic. Many concerts hosted by iconic Italian and international artists as well as operas are held there in the summertime. The setting and impeccable sound transforms this ancient monument into a music temple, thereby creating a strong bond to the Hard Rock philosophy.
Traditional American flavor
Hard Rock now brings the traditional American flavor and flare to the city of Verona. All dishes are prepared daily with fresh ingredients, carefully selected among a network of local farmers and suppliers. The Verona Beat Local Legendary Burger stands out on the menu, being created as a tribute to the Verona area: prime quality beef, a delicious bacon jam and caramelized onions with Amarone, sautéed red radicchio, Monte Veronese Mezzano cheese topped with a delicate sauce with mushrooms and Amarone. Are you getting hungry already?
Celebrating a triumph of typical flavors and excellence from the local gastronomy, the burger got its name from a contest held by the Hard Rock Café Verona's Facebook page, where people from the city were asked to come up with an idea. Among the many responses, the reference to the classic 80s song Verona Beat, won. What I personally like best is, that the menu also includes a selection of vegetarian dishes and even gluten free choices.
Dining with a view
Hard Rock Café Verona is distributed over two floors, also featuring an outdoor terrace with a stunning view of the Arena. The internal dining area can accommodate 96 guests, while 280 guests can also be served outside. Each of the two floors has a bar area, where one can enjoy a Veneto specialty "Spritz" or one of Hard Rock's Signature Cocktails prepared by the bartenders. A VIP room can be reserved for parties, dinners and private events. Moreover, there is also a specific area dedicated to live music, other events and concerts. The design of the café has paid homage to the city's predominant colors: blue and yellow – providing a vibrant, eclectic atmosphere in true contemporary Hard Rock style.
A must-see is the truly special memorabilia collection of the Verona café. It is composed of iconic objects that belonged to singers, artists and musicians who performed in the Arena or that have some special connection to the city.
Iconic memorabilia
Do not miss the white suit designed for Prince by Gianni Versace and George Micheal's jacket, also signed by Versace. Worth a mention is Elvis Presley's necklace, Rolling Stones' Converse All Stars and Elton John's boots. The list of stars represented in the Hard Rock Café Verona collection is truly impressive: Nicki Minaj, will.i.am, Radiohead, Lenny Kravitz, Bon Jovi, David Bowie to name but a few. Three big names of the Italian music scene also stand out: Eros Ramazzotti, who donated a jacket to Hard Rock Cafe, Negramaro, with a t-shirt signed by the whole band, and Zucchero, with his Gibson Les Paul guitar.
At the Rockshop customers and visitors can purchase iconic products of the brand's famous merchandise assortment. Among these: the pins – a cult object for fans from all over the world and the T-Shirts, loved and sought after by collectors. In addition to the classic versions, the T-Shirt produced exclusively for Verona will also be on sale: a limited edition with a grey background and yellow and blue logo.
City of Love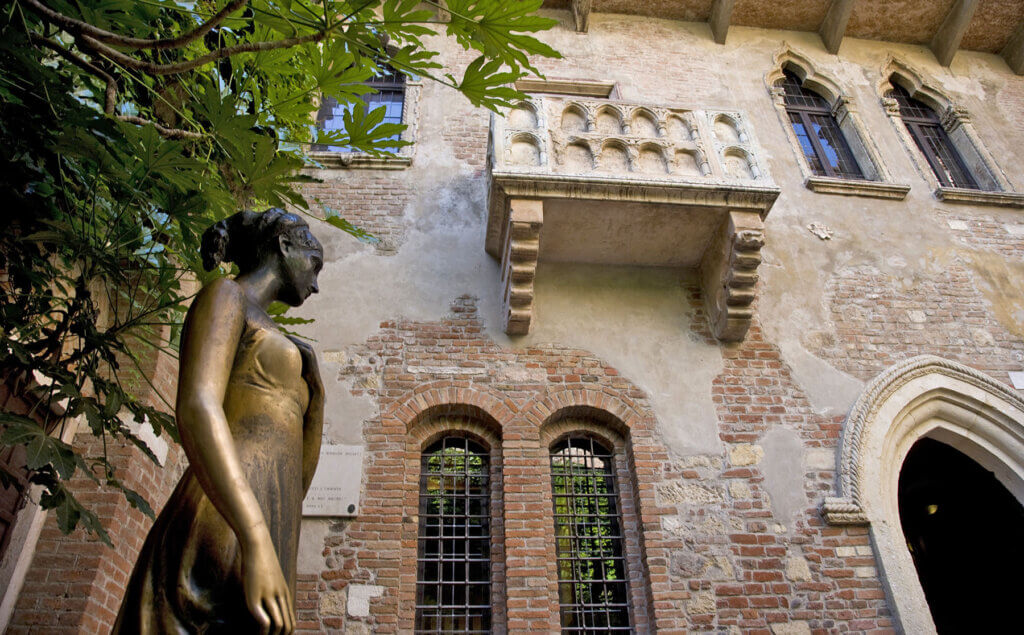 Half-encircled by the Adige river, Verona is one of the most popular cities among tourists. The best sights and historical landmarks of the city include: Piazza delle Erbe, Palazzo della Ragione, the Lamberti Tower, Juliet's House, Castelvecchio and the Basilica of San Zeno. A concert or an opera in the Arena is an unforgettable experience which makes every visit to a highlight. The decision to open Italy's fourth Hard Rock Café in Verona was a great choice.
Photos: Hard Rock; Archivio fotografico Regione del Veneto – Direzione Promozione Economica e Marketing Territoriale;