Monteverdi Tuscany has unveiled its newly expanded Monteverdi Spa & Wellness Center following a multi-year renovation. The medieval-era boutique hotel located on 22 acres in the UNESCO World Heritage Site of Val D'Orcia now houses an enhanced spa and new, split-level 1,720-square-foot wellness center.
At the spa, guests can experience a range of artisanal massages, rituals and warm ceremonies in renovated treatment rooms, including a new couples suite. As guests venture into the center of the revamped facilities, they will discover the Monteverdi Spa Circuit, with its series of warm and cold plunge pools, saunas and showers. The distinctive spa journey includes a new bio sauna, a Finnish sauna and a cold plunge pool. Guests can also experience the new sensory showers, which invigorate the body with harmonious variations in temperature, scents, colors, and vibrations.
Monteverdi Tuscany Spa Circuit
The Spa Circuit also offers access to the newly constructed Conservatory, a relaxation area with views for guests to take in before or after their bathing rituals. Other new facilities include cryotherapy chambers, outdoor garden and yoga platform, featuring vistas of the Italian countryside. To complement the expanded facilities, Monteverdi has partnered with luxury beauty brands to augment its spa program with a range of treatments.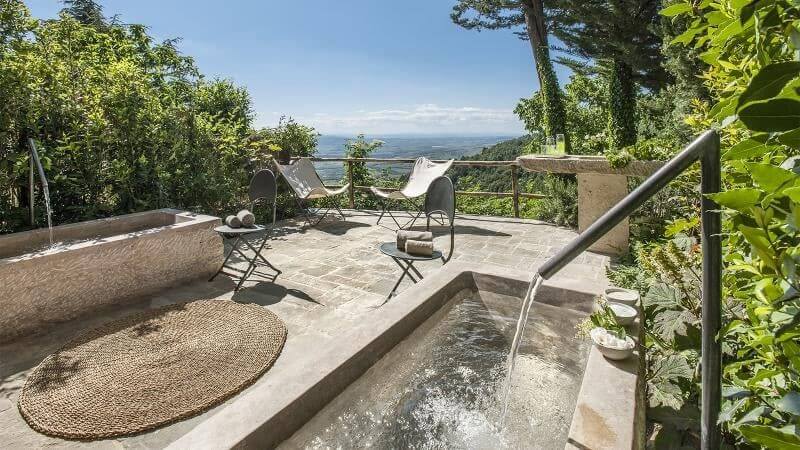 The new 1,720-square-foot Wellness Center offers five treatment rooms, including two rooms designed for laser treatments and an IV lounge. There are four areas of wellness expertise: aesthetic, regenerative, preventative and programmatic, where guests can experience aesthetic care, science-driven treatments and physician guidance to promote health and wellbeing during and after their stay. Each customized wellness journey is designed to help guests gain insight about their health and reach their individual goals. A wellness concierge will be assigned to each guest ahead of and during their stay for a personalized wellness experience.
Monteverdi Wellness Center Menu
The Wellness Center menu was developed in partnership with Dr. Maurizio Cavallini, an esteemed practitioner who brings decades of medical expertise to Monteverdi as chief medical advisor. Services include aesthetic medicine and regenerative treatments that boost skin health with medical techniques, besides diagnostic services and assessments that inspire guests to take a preventative approach to nutritional and age-related needs.
Monteverdi offers multi-day retreats and programs, including the three-night Tuscan Tranquility Retreat and the seven-night Holistic Detox Retreat, each of which include a curated selection of treatments, services, activities and diagnostic assessments, along with F&B experiences led by Executive Chef Giancarla Bodoni.