Tour d'Italy with Rocco Forte Hotels
This year, Rocco Forte Hotels is celebrating its 25th anniversary by offering immersive experiences inspired by the cities their properties call home. The group is offering a "European Grand Tour" so guests can interact with local artisanal talent while enjoying the best that each city has to offer. We, of course, concentrate with our Tour d'Italy on the Italian Rocco Forte Hotels only.
Check out the fantastic options which offers a great way to stay not only in some of Italy's best hotels but also venture out from Florence to Rome and further south to Puglia and Sicily. Make it the dream vacation, maybe with a road trip in a typical Italian convertible. Be adventurous…
Guests can book individual hotel experiences or opt to enjoy multi-destinations. You can select up to five Rocco Forte Hotels and enhance the itinerary with one or more of the curated experiences. Included are
Complimentary airport transfers return
15% off a two night stay in a Presidential Suite at any of our European properties
Special VIP 25th anniversary amenities
Rocco Forte Suite Experience benefits
Bespoke curated Experiences
Choose from a selection of unique, bespoke experiences in each destination
Select up to five destinations, five unique experiences
Let's "drive" from top to bottom and explore the "boot".
Hotel Savoy, Florence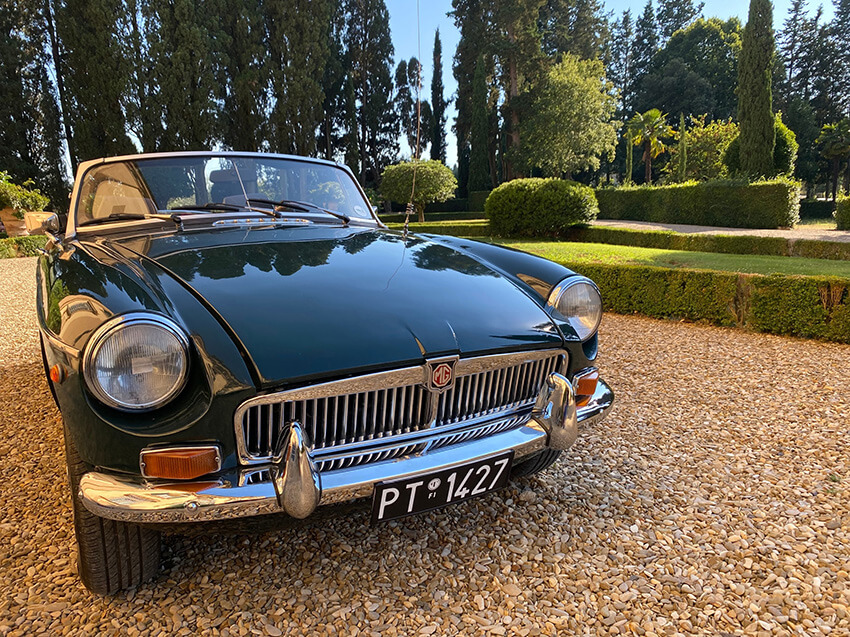 Slow down a gear and be enchanted by the sights and scents of the rolling Tuscan countryside and experience the ultimate vintage road trip. Leave the Uffizi and the city behind, take the strada regionale 222 and drink in breathtaking views of the famous vineyards of Chianti. Take on the undulating roads, detouring to explore hidden hilltop villages. For those who would rather not drive on Italian roads – although, I really would like to encourage you to live this experience, especially in the Tuscan countryside – can opt for a guided tour.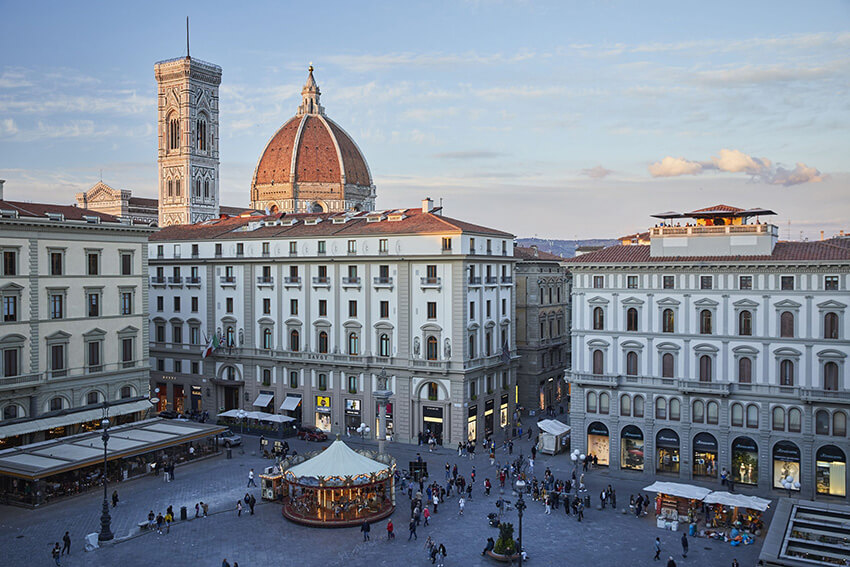 Located on one of the largest squares in Florence, Hotel Savoy seduces with its enviable views of the Duomo and Giotto's Bell Tower – climb to the top for the best panoramas. The city itself is a Unesco World Heritage site and is, quite simply, a must-see. Leave time to explore Uffizi Gallery, displaying Botticelli's "The Birth of Venus", and Michelangelo's "David" as well as the reveling in the city's ravishing Renaissance architecture.
Hotel de Russie, Rome
This special experience will take you to the cobbled streets of the bohemian Trastevere district. Here, in the hidden treasures of an elegantly eccentric eighteenth-century townhouse you'll meet the housekeeper waiting to share the wonders of his collection with you.
Admire his ancient treasured items that span both the globe and the centuries. Examine Egyptian funerary headgear, dating back to 330 BC, a 17th century Tibetan drum and the traditional shield of the Dayak head-cutters of Borneo.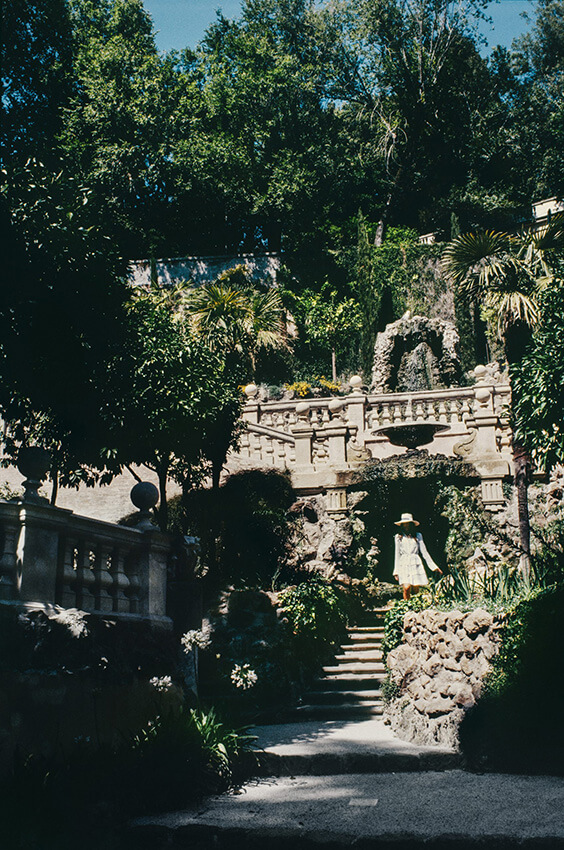 Staying at Hotel de Russie, close to the Spanish Steps, you'll discover its own secret – a hidden garden at its heart. Originally designed by architect Giuseppe Valadier, the garden's fragrant orange trees and tiered terraces have been revamped by former Valentino interiors designer Tommaso Ziffer.
Walk down the Spanish Steps and venture out on the various shopping streets, among them, straight ahead, famous Via Condotti with abundant designer shops.
Hotel de la Ville, Rome
Experience the City of Sin's dark side.
When staying at Hotel de la Ville in Rome, you can embark on a two-hour guided tour through the dark streets of Rome's heretics, traitors and ghosts. As you cross Sant'Angelo bridge you'll learn about Mastro Titta, official executioner for the Papal States. Travel back to the taverns where Caravaggio brawled in the streets and and relive the political plots of the quite possibly murderous Cesare Borgia and his sister, Lucrezia Borgia, a noblewoman with a notorious reputation.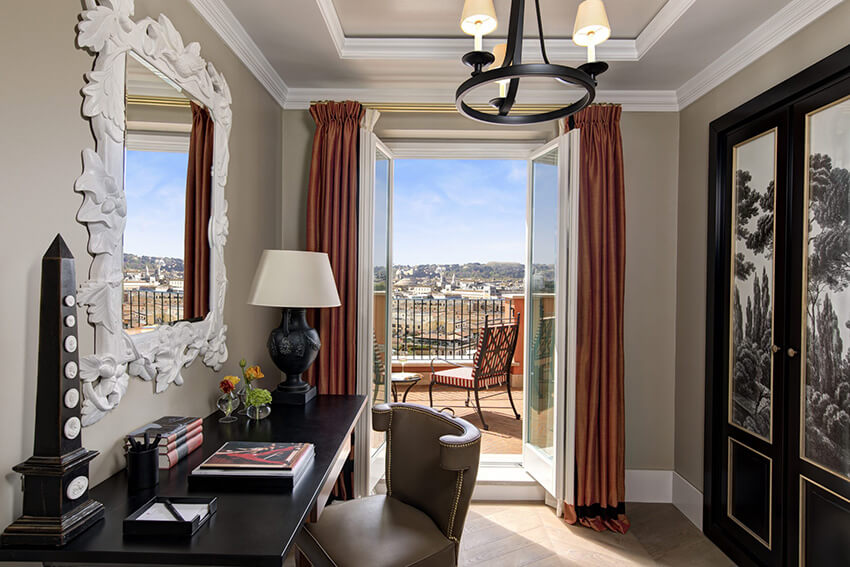 The extravagant interiors of Hotel de la Ville – by designer Tommaso Ziffer and Olga Polizzi – were inspired by the Grand Tour era. Stay at the sumptuous 18th-century palazzo and you'll have access to the whole of Rome, laid out before you, from the top of the Spanish Steps.
Masseria Torre Maizza, Puglia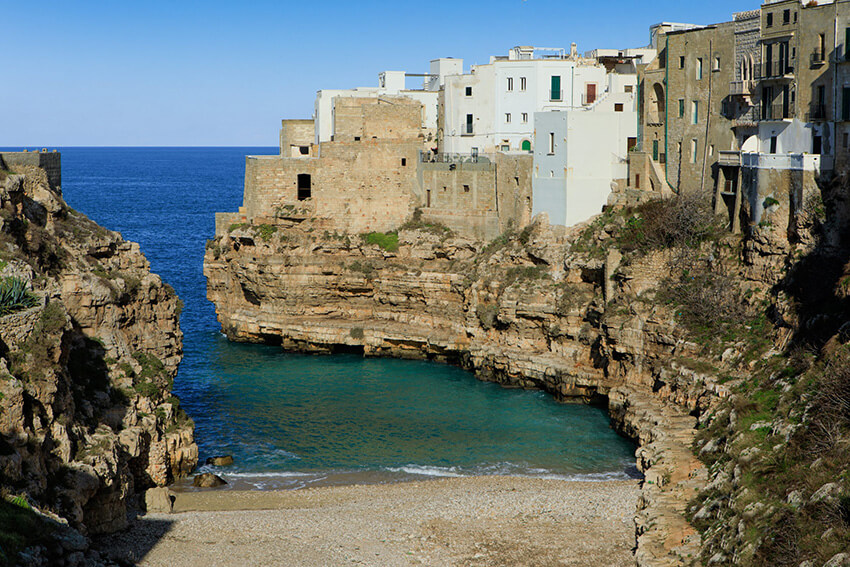 Puglia is always connected to a culinary experience. Nothing different here, at Masseria Torre Maizza.
Masseria Torre Maizza has curated a journey through Puglia on a plate. At the Grandmother's Table, you will enjoy a Sunday lunch with Apulian dishes like grandma used to make. A traditional Sunday lunch is a feast and a chance to be immersed in local culinary traditions. Hosted by local mothers and grandmothers, the meal is a chance to spend the day together. A communal table will be set among monumental olive trees and seasonal flowers and you will leave as part of the family.
Food is an important part of the rhythm of life at Masseria Torre Maizza, a five-star conversion of a 16th- century farmhouse. At the main restaurant, Il Carosello, local chef Nicola Lenoci infuses the menu with Puglian flavors while precious memories are made at the private dining table in our walled garden. Once your appetite for gastronomy has been fully satisfied, you can enjoy the hotel's 9-hole golf course, private beach club and the Irene Forte Spa, housed in an old olive mill.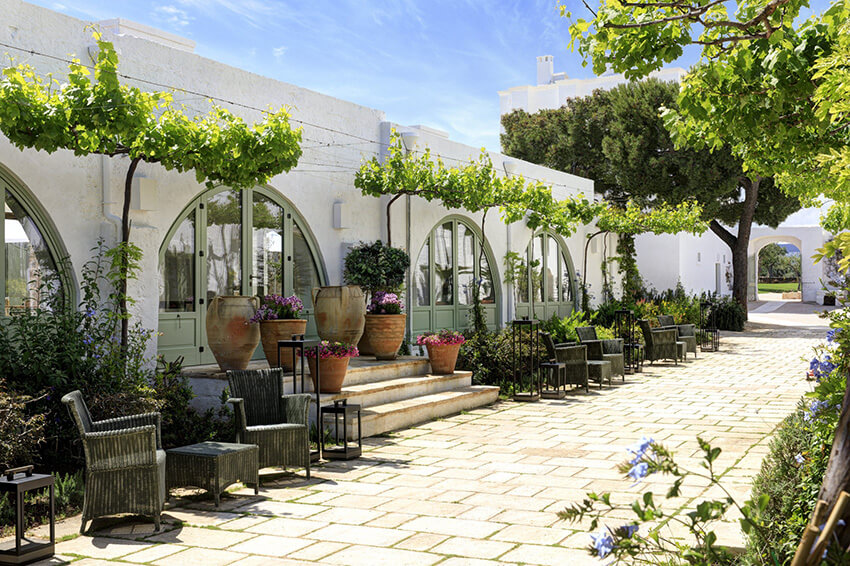 I have lived in Puglia a long time ago, and visited several times since. The hospitality and warmth of Apulian people has stayed in my heart. The food, even though sometimes very simple, is really fantastic, fresh and tasty. It's a place that you should not leave out of your "bucket list".
Verdura Resort, Sicily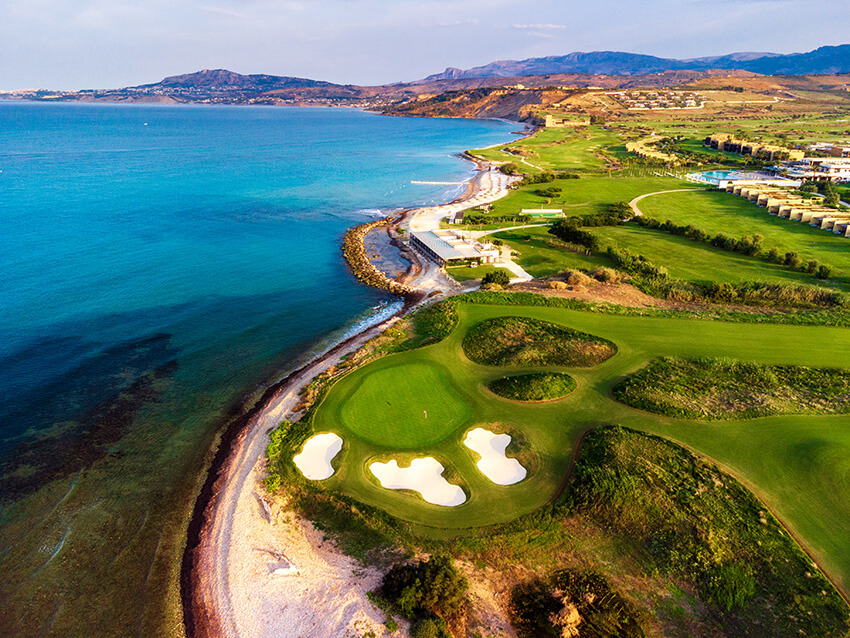 At Verdura Resort in Sicily, you can golf your heart out.
Tee yourself up for the ultimate golfing afternoon and you'll be welcomed with a personalized gift bag on arrival, filled with golf equipment including a dozen professional standard golf balls and a Verdura golf shirt.
Set on 230 hectares and with close to two kilometers of private Mediterranean coastline, near Agrigent, you have the choice of two seaside championship golf courses designed by Kyle Phillips at Verdura. Once set up with the right equipment, it's time to improve your swing. Get to grips with the right technique at a 30-minute lesson with our PGA coach on the driving range. Relax after your training session with a three-course lunch in the clubhouse.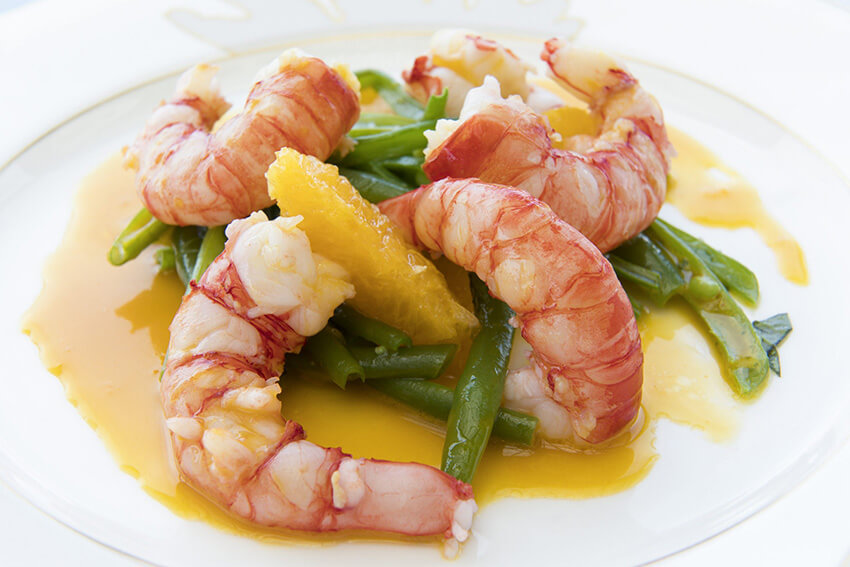 Heading for a hole-in-one, you'll finish your golfing experience by testing your skills on our championship 18-hole golf course, playing four holes with our pro.
Because of the scarcity of water resources in Sicily, and the quantities required to maintain the resort's golf courses, a water-recycling system has been installed. A further measure introduced to save water has been the conversion of the lawn around the golf course into decorative rock gardens.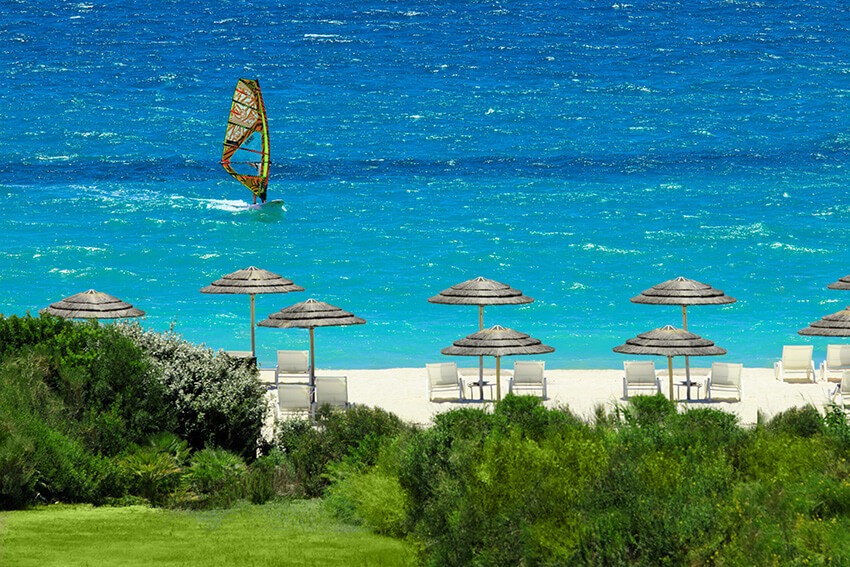 Villa Igiea, Sicily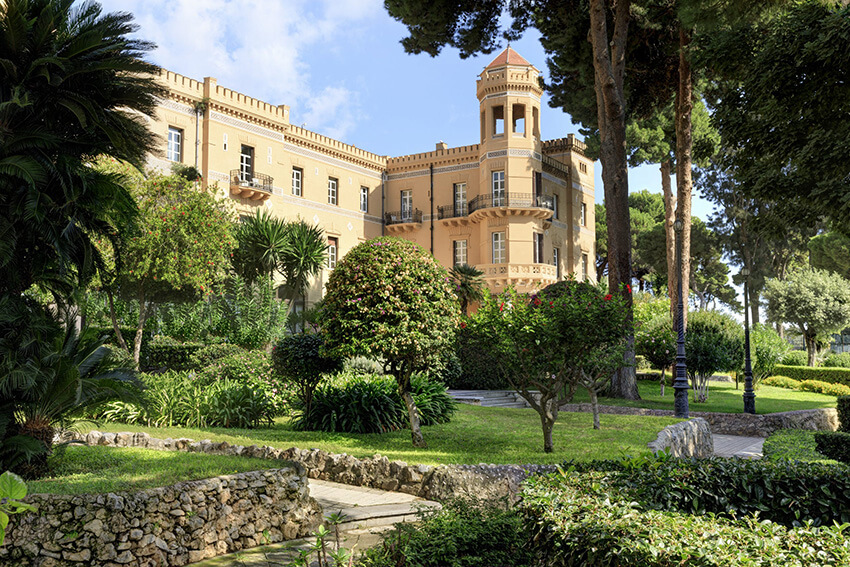 Villa Igiea has curated an artistic guide to the city of Palermo, through the lens of the aristocratic Florio family.
The influential family built Villa Igiea and transformed the private estate into a luxury hotel at the start of the 20th century. The Florios were both wealthy and well known. You will discover the history of Palermo through the Florio family on a city-wide tour which takes in the Norman, Rococo and Art Nouveau architecture of Sicily's capital.
You will be welcomed for a private tour of the stunning 300-year-old Palazzo Gangi – often compared to Versaille's Hall of Mirrors – by the princess of the palace. Time travel through the centuries as you circumnavigate the Sicilian old quarter, the Norman sector and baroque palaces on an all-encompassing city tour.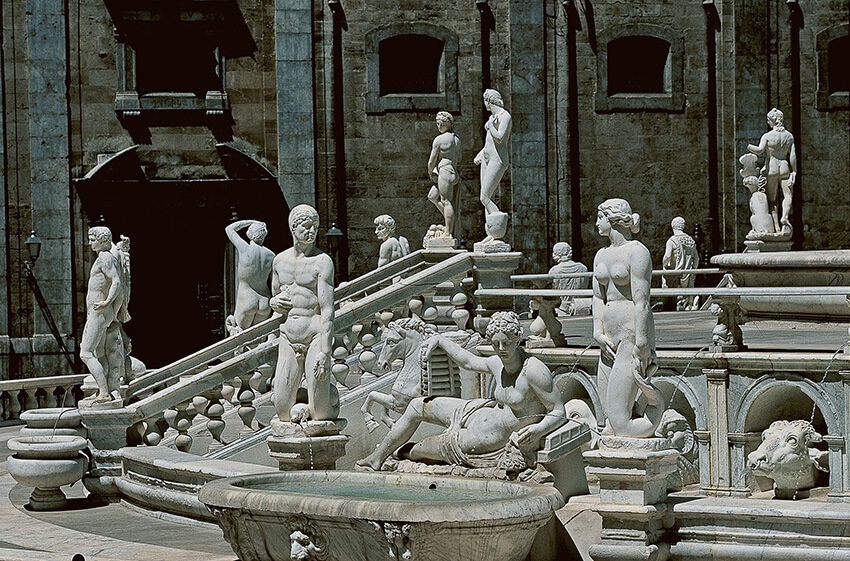 On your private tour you'll get to know architect, Ernesto Basile, who was commissioned by the Florio family to design both Villa Igiea and Teatro Massimo, the largest opera house in Italy. Finishing up your epic architectural adventure, you will be greeted with dinner in the hotel's Louis XVI hall, named in honor of the Florio family.
Choose your five destinations and take the Tour d'Italy or, head to your favorite hotel. You can book directly at Rocco Forte Hotels.