Are you truly interested in experiencing a fantastic luxury vacation villa? Then, a Trullo is the answer. The trulli are limestone dwellings found in the southern region of Puglia. They are remarkable examples of drywall (mortarless) construction, a prehistoric building technique still in use in this region. The trulli are made of roughly worked limestone boulders collected from neighboring fields. Characteristically, they feature pyramidal, domed or conical roofs built up of corbelled limestone slabs. Trullis are now recognized as heritage sites by UNESCO.
Vacation Villa
The Trulli, Puglia is a unique property, made up of 11 Trulli. The cluster of little white stone 'tents' is a magical sight as you approach. Once inside, the vibe is traditional with a contemporary twist – whitewashed walls and splashes of bright Mediterranean color bring the shared living spaces to life, while neutral bedrooms and spa-style bathrooms provide comfort and relaxation.
The villa's outside space has been carefully designed to create a real 'alfresco home'. Two stone courtyards have been designed to become an outdoor living area… a garden kitchen under the gazebo comes complete with its own dishwasher and oven so you can enjoy cooking under the stars of an evening. And the cobalt-blue tiled pool is a wonderful space in which to float away the day.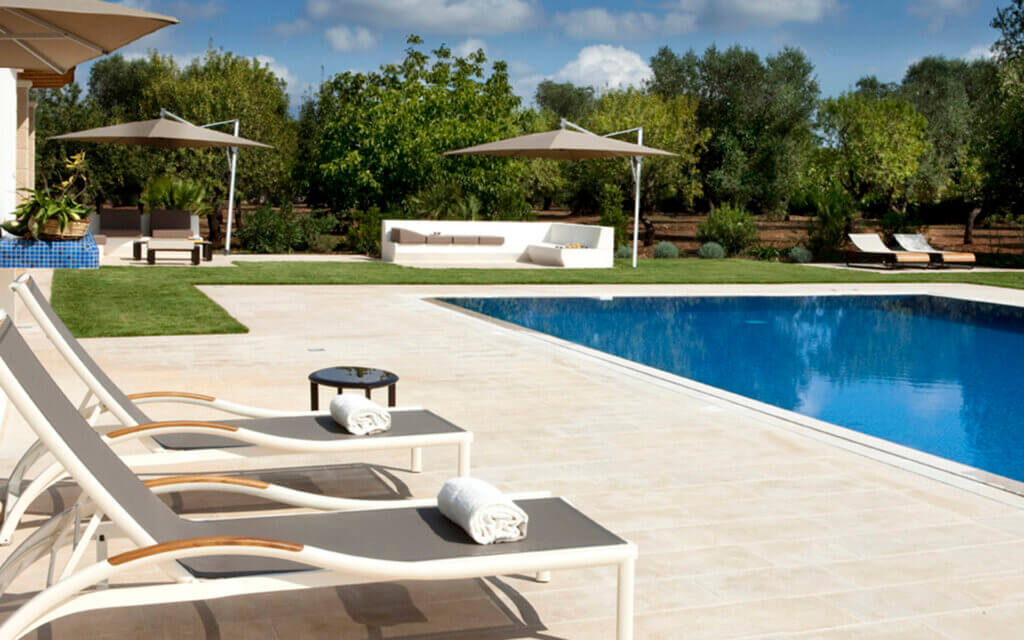 Surrounded by herb gardens, in turn encircled by olive groves and fruit trees, with vineyards beyond as far as the eye can see, The Trulli offers real seclusion and, above all, a sense of peace that's hard to find at home. Listen to the cicadas, inhale the heady scent of rosemary, lavender and fruit trees and breathe a little deeper in your own Italian Trulli.
Rooms
Bring your family or maybe come with a group of friends. The Trulli sleeps eight people in four bedrooms. Bedroom one, two and three are double rooms with queen-size beds; bedroom four is a double room with two single beds. The property has three full bathrooms.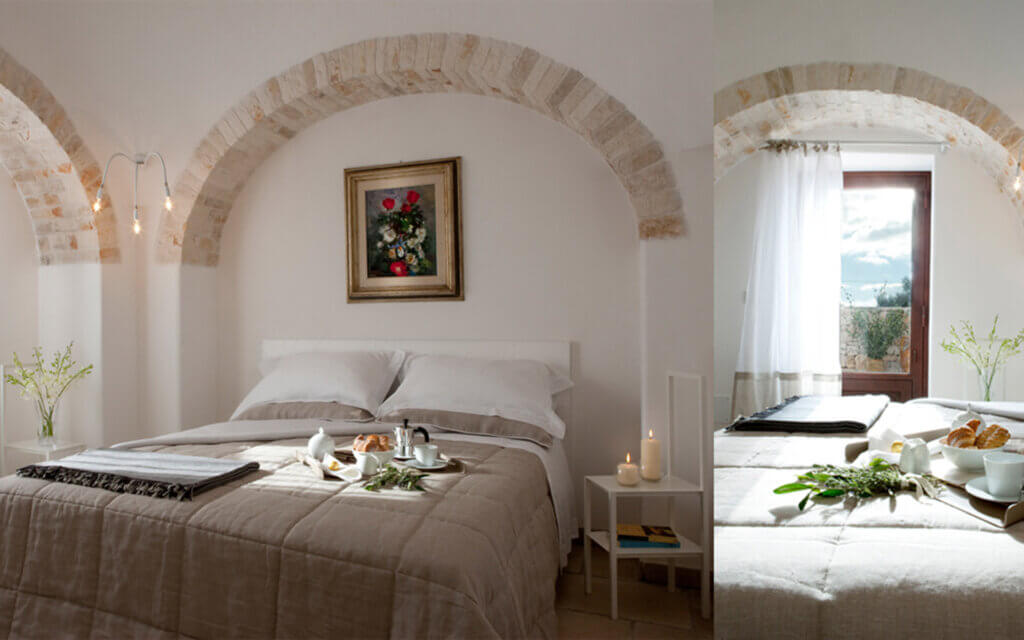 Amenities
The Pool is surrounded by a spacious relaxation area. The outdoor area includes a Gazebo with a garden kitchen, coffee maker and dishwasher, a lounge and a Barbecue area. The bar and wine cellar offers space for some of the best wines available from the area.

The sitting area features a Flatscreen TV with satellite, there is an outdoor stereo system, and WiFi is available in all areas.

Of course, there is a laundry room and private parking.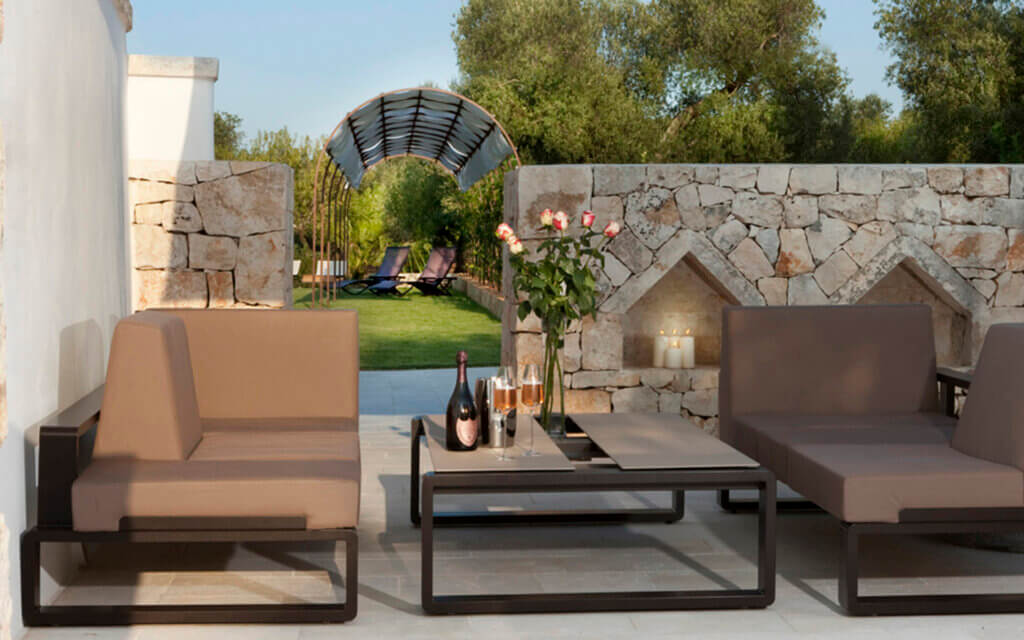 The villa has a well-appointed kitchen which food lovers will enjoy spending time in, experimenting with local ingredients. A daily continental breakfast is included as well as a welcome basket with local wines, kitchen staples, fresh bread, fruits, vegetables and cheese. For those who would like it, a private chef is available on request for an additional charge.
Location
This luxury villa is situated just south of the town of Ostuni and 10 miles from the Adriatic coast. The closest town is San Michele Salentino, just three minutes drive away. The nearest airport is Brindisi, around 20 minutes drive away, or Bari, which is 1.5 hours drive away.
Since you are already there, don't miss to visit Ostuni, also called the White Town. This picturesque town, sitting on top of a mountain, is a renowned tourist destination. It boasts a wonderful medieval village, rich with alleys and whitewashed houses, in a maze of streets which recalls an Arab Kasbah. Take a stroll in the old town center, called "la terra" (the land) to distinguish it from the more recent "marina": it offers lovely spots amid the alleys, sloping stairs, courtyards and small squares, where whitewashed houses appear, embellished with geraniums, craft shops, typical restaurants and small shops.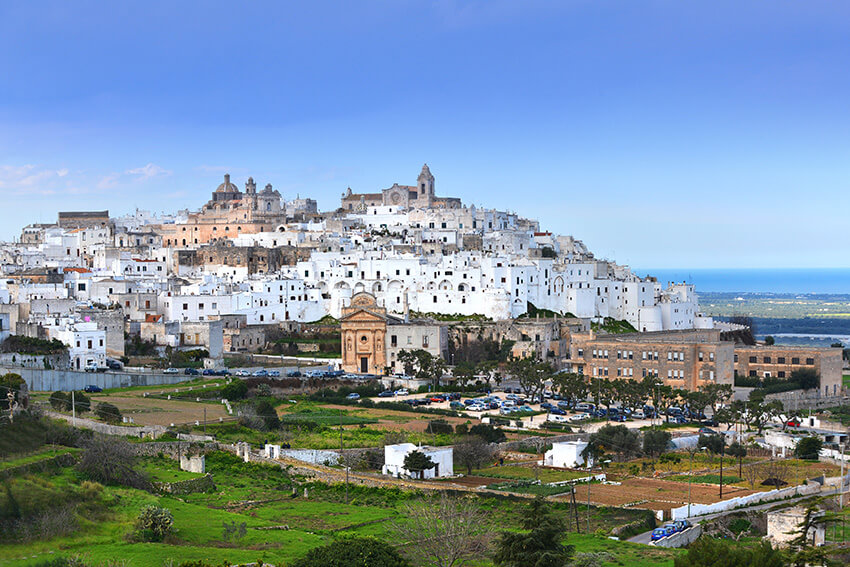 With its still expanses of olive trees as far as the eye can see, the Itria Valley is red soil, green groves and vineyards, and white trullo houses under a serene blue sky. Also known as the Valley of the Trulli, it makes up part of the Provinces of Bari, Brindisi and Taranto, and comprises the Comuni of Alberobello, Carovigno, Castellana Grotte, Ceglie Messapica, Cisternino, Fasano, Locorotondo, Martina Franca, Noci, Ostuni, Putignano, San Michele Salentino, San Vito dei Normanni and Villa Castelli.
In the Itria Valley's heart is the obligatory stop of Alberobello, a UNESCO World Heritage Site (named in 1996), where it is impossible not to be charmed by the lanes of the Monti and Aja Piccola neighborhoods.
Be sure to visit the Grotte di Castellana, open year-round; led through the wonders of these caves by expert guides, you won't be sorry you took on this fascinating excursion.
For reservation of The Trulli, Puglia (or any other of their amazing properties) visit The Firefly Collection
www.firefly-collection.com
Photo Ostuni: Carlo Elmiro Bevilacqua/Regione Puglia