The snow has arrived. It's time to head for the mountains.
The Dolomites of Val Gardena are known for impeccable skiing; however, there are some other winter adventures to make the most of your snow vacation. Here are the top Dolomites Experiences.
Sunrise
Dedicated to all those who want to experience the pleasure of being the first to leave their tracks on a track, after the passage of snow cats in the night. Even before the usual opening of the lifts, the cable car takes skiers every Tuesday to Dantercepies and every Thursday to Seceda, where the first rays of sun illuminate the Sassolungo group with a magical light. With a rich and complete breakfast, the moment becomes an experience.
The Legendary 8
The ski area of ​​Val Gardena is also the most traditional valley in South Tyrol, with an extremely varied offer of slopes for all levels of difficulty. Each slope has its own history and some have a very special one, such as those that were the site of the World Ski Championships in 1970, and are therefore contemporary witnesses of over 100 years of skiing tradition in this Ladin Dolomite valley. "The Legendary 8" are the most beautiful and meaningful slopes of Val Gardena and extend for a total of 23 miles.
Snowshoeing
Feel the unspoiled nature in the Unesco World Heritage Site and walk through the landscape rich in Ladin culture. Accompanied by an expert mountain guide, you will explore the most beautiful places in Val Gardena. Particularly magical is the evening excursion with snowshoes under the starry sky, ending the evening in a welcoming refuge.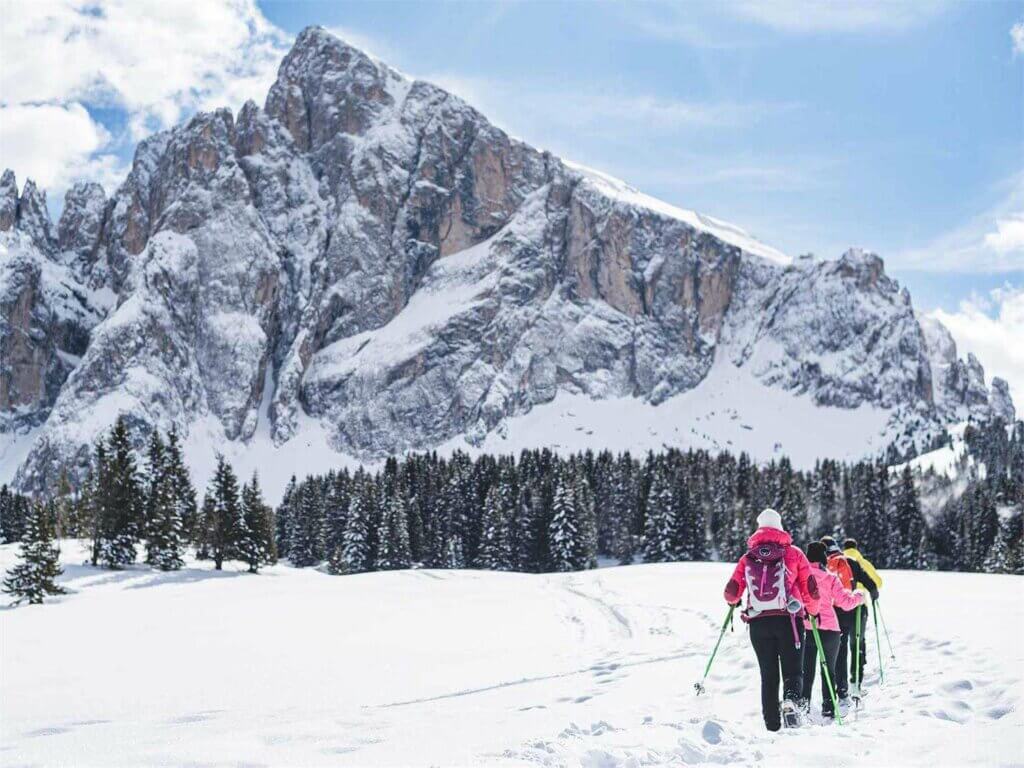 Walk with Torches
The culture of Val Gardena, the natural scenery and a touch of romance are the main characteristics of this experience. Both during the evening torchlight procession in the woods on the "Troi Unika" thematic path, and during the torchlight procession through the center of Ortisei, you will find yourself immersed in the stories of the Gardena craftsmanship.
Special Nights
Those are special nights to experience on tour with the Fat e-bike, with the sled, with snowshoes, practicing cross-country skiing in the moonlight: all ways to enjoy the crystalline mountain air, with the imposing Dolomite peaks. A special highlight for skiers is the yearly Sellaronda Ski Marathon where participants will complete the circuit at night. During the event, the path will be illuminated using only the participants' helmet torches.
Photos: Dolomites Val Gardena