Molto at the Galleria Borghese in Rome, another museum restaurant.
Art and cuisine – where better to enjoy than in Italy?
Putting together two cornerstones of the Italianness makes powerful tourist attractions: art and cuisine. In Italy it is possible to eating (well) in exhibition spaces – whether in public museums or private galleries. Visitors can prolong their stay and move from the exhibition rooms to the dining rooms, becoming themselves destinations, as it already happened with some architectures. Now, a new museum restaurant has opened in Rome: Molto at the Galleria Borghese.
Molto's culinary offer at the Galleria Borghese
Molto features a double soul: bistro and café (with classics of the genre, including croissants, cakes and club sandwiches) open to the public and not only visitors. The offer is tasty and simple, yet straightforward.
The menu is made up of tried and tested dishes as well as new proposals for a tasty, fresh and modern menu. Italian raw materials take center stage here: Gerardo di Nola tomatoes, bottarga of the Spanu brothers, and most of the vegetables from the kitchen garden. They range from Sardinian fregola pasta, cacio e pepe ravioli with artichoke, saffron rice pancake, or even lasagna. The take-away box invites to picnics in the Villa Borghese Garden, while the Giotto pastry shop offers Gobino chocolate, as well as other Molto brand products. Also available is Geraci's Nocellara del Belice extra virgin olive oil, Molto rosso (from Pinot Nero grapes) and Molto bianco (from Verdicchio dei Castelli di Jesi grapes) wines, as well as pasta by Verrigni.
Molto is open Tuesday to Sunday from 9 am to 7 pm
Piazzale Scipione Borghese 5, 00197 Roma
More dining in museums
Eating in museums is no longer a taboo topic, as proven by the many new openings. From city to city, from museum to gallery, projects are on the rise.
Staying in Rome, there is also the renewed Caffè Doria at Palazzo Doria Pamphilj, café and bistro flanked by special events and dinners. Caffè Doria is the place where art, food and passions come together in the refined and evocative setting of Palazzo Doria Pamphilj.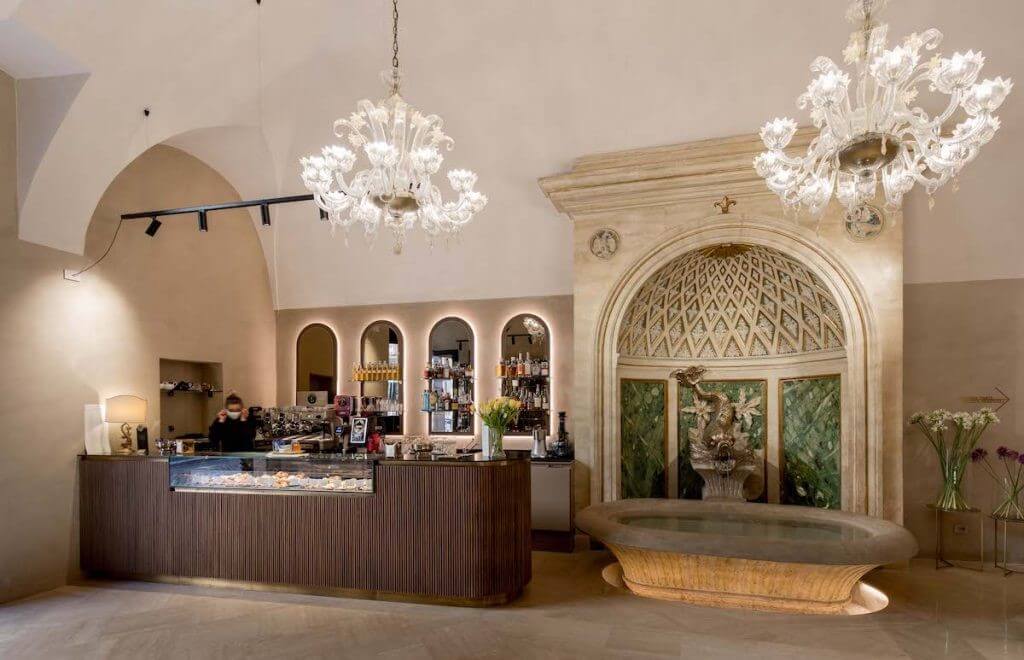 A Bistro in perfect harmony between contemporaneity and classicism, where the cuisine travels in perfect balance and synthesis between tradition and innovation, always faithful to Chef Massimiliano Mazzotta's concept of "Comfort Food". This elegant café can be enjoyed right from breakfast. A precious and cozy living room in the historic center of Rome, where you can indulge in your passions until after dinner, when even the Mixology finds its perfect connotation thanks to the exclusive Gin Trolley.
Caffè Doria is open Tuesday to Sunday from 8 am to 9 pm
Palazzo Doria Pamphilj, Via della Gatta 1, 00186 Roma
Also new is Roland at Spazio Field, art gallery and multicultural center inside Brancaccio Palace. Roland's elegant setting is immersed in the works of art and original decorations of the building. The rooms of Roland are adorned with stuccoes and canvases from the 1400s and house the drawings of Francesco Gai, historical artist of the Brancaccio family as well as ancient oriental embroidered silks.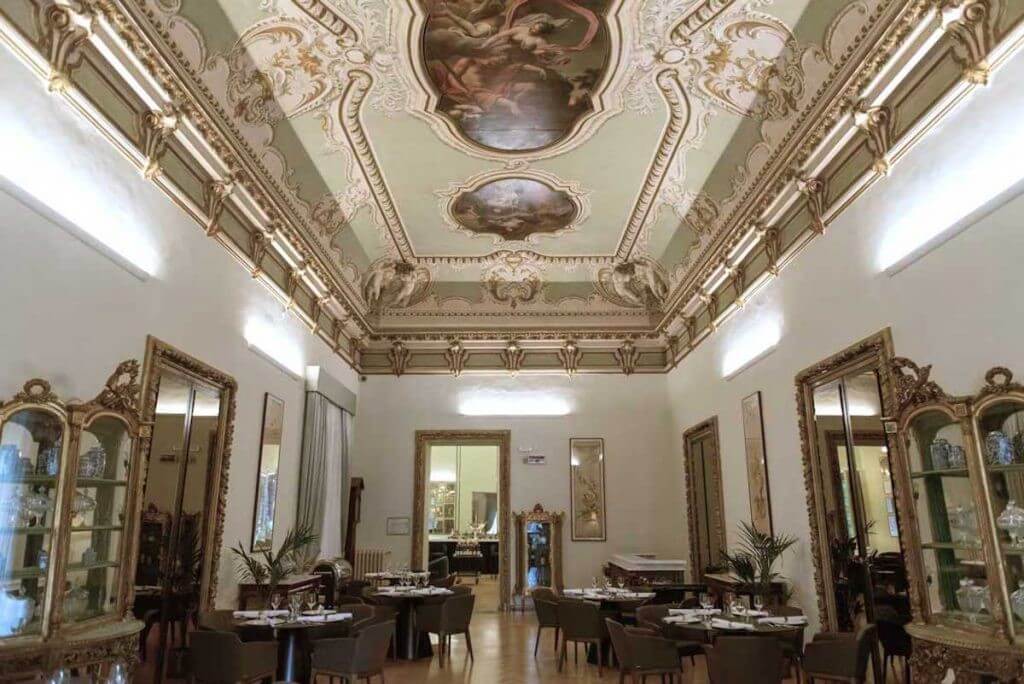 Roland is open Tuesday to Sunday from 11 am to 12 am
Via Merulana, 248, 00184 Roma
In Tuscany, the synergies of Massimo Bottura & Co with Gucci, led to the opening of Gucci Osteria at the Gucci Museum in Florence, now also a cocktail bar, led by Karime Lopez. She creates her own culinary universe by interlacing the colors and flavors of Italy and beyond.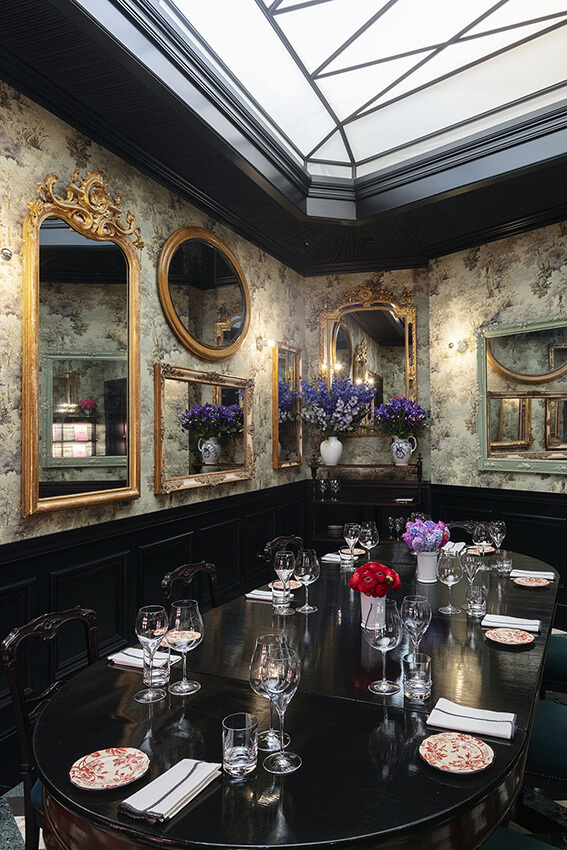 Gucci Osteria is open daily from 12.30 pm to 3 pm and 19.30 pm and 10 pm
Piazza Della Signoria 10, 50122 Firenze
Also in Florence, is the Cortese Cafè 900 at the Museo Novecento, the raw pastry shop by Vito Cortese. Chocolate, biscuits, pralines, spoon desserts and ice cream, all strictly without flour, milk, eggs, yeast and sugar. Vito Cortese, the most important raw-food pastry chef in Italy, has opened his gourmet restaurant in the heart of Florence, in the new spaces of the Museo Novecento café overlooking Piazza Santa Maria Novella.
Cortese Cafè 900 is open daily from 8 am to 8 pm
Piazza Santa Maria Novella 10, 50123 Firenze
At the Centro Pecci in Prato there is Angiolo Barni who manages the two souls of Myo, restaurant and bistro. The restaurant is inside the Pecci Museum, a center for contemporary art. The location is beautiful, the tones enhanced by works that are hosted inside the restaurant.
Myo is open Tuesday to Saturday from 12.30 pm to 2.30 pm and 8 pm to 10.45 pm;
Sunday from 12.30 pm to 2.30 pm
Viale della Repubblica 277, 59100 Prato
After years at the Lucca Center of Contemporary Art, Cristiano Tomei moved his restaurant L'Imbuto in 2018 to Palazzo Pfanner, well known for being the set of the movie 'Marchese del Grillo'. You could go to L'Imbuto and ask for the same dish, but each time you will find a landscape with new details. Chef Cristiano Tomei's surprises are renewed every day, and they are unpredictable. The wine cellar in turn seeks out exciting labels, singular vintages and vintners devoted to biodynamics.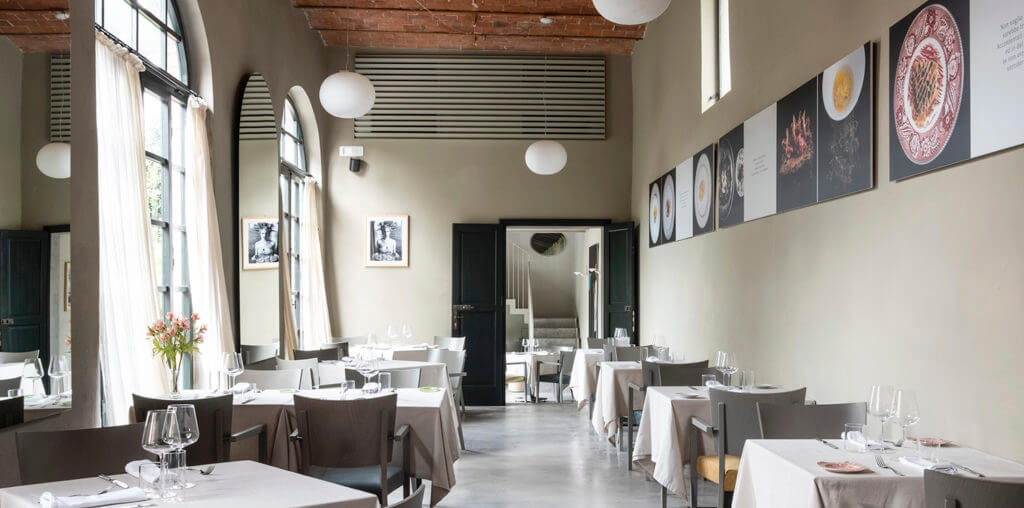 Ristorante l'Imbuto is open Wednesday to Sunday from 12.30 pm to 2 pm and 7.30 pm to 9 pm
Piazza del Collegio 7, 55100 Lucca
In Milan, we have the Fondazione Prada's Bar Luce café, designed by director Wes Anderson, featuring its unmistakable imprint that mixes pop and retro charm. Bar Luce recreates the atmosphere of a typical Milanese cafè. As explained by Anderson, "the approach I used to design this bar is exactly the opposite I usually use for the set designs of my movies. I tried to make it a bar you'd like to go to five times a week.
The café is located at the entrance building of Fondazione Prada. The range of colors, the formica furniture, the seats, the floor, and the wood wall panels are reminiscent of Italian popular culture and aesthetics from the 1950s and 1960s, echoing artistic decisions Anderson made for his short film Castello Cavalcanti (2013).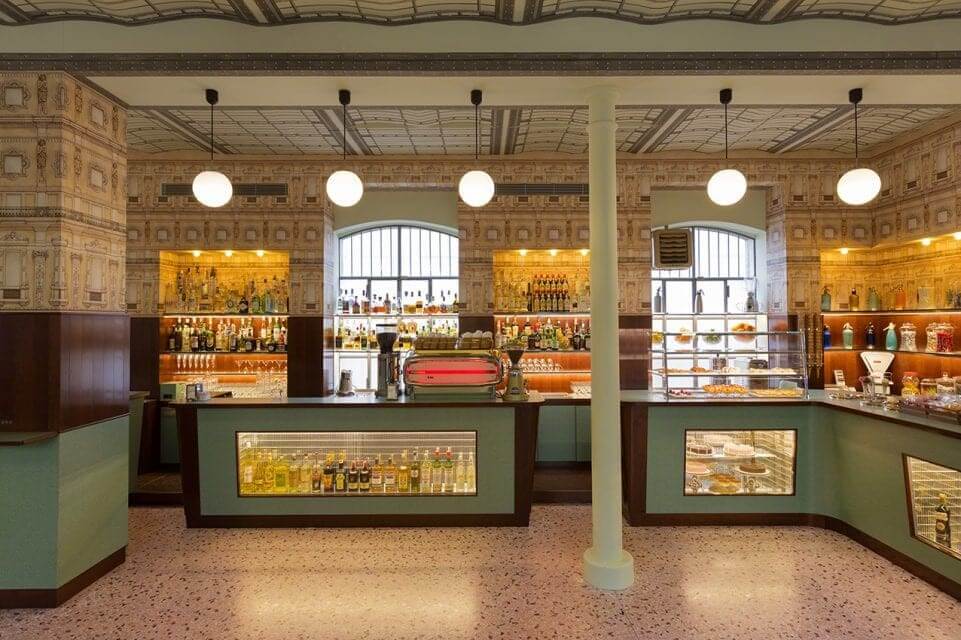 Bar Luce is open every day except Tuesday from 8.30 am to 8 pm; Saturday and Sunday 9 am to 8 pm
Largo Isarco 2, 20139 Milan
Turin ranges from the contemporary art with the Fondazione Sandretto Re Rebaudengo – which has entrusted Alessandro Mecca with the restaurant Spazio7 – to historical spaces such as the Reggia di Venaria, where chef Alfredo Russo is firmly at the helm of Dolce Stil Novo.
Spazio7 is a place where cuisine and art come together to create a gastronomic center with an eclectic and contemporary soul. 7 is a magical and spiritual number. 7 is synonymous with evolution. 7 is the lucky number that it was decided to associate with the name "Spazio", inherited from the restaurant inaugurated at the same time as the birth of the Fondazione Sandretto Re Rebaudengo, where the restaurant is located. A restaurant, a cafeteria, a location for events: Spazio7 is this and much more. In 2018, the restaurant received a Michelin star.
Spazio7 is open Tuesday to Saturday from 7 pm to 10.30 pm; Sunday from 12.30 pm to 3 pm and
7 pm to 10.30 pm
Via Modane 20, 10141 Turin
Dolce Stil Novo is a unique trip between culinary pleasure and history's emotion. Venaria Palace – an architectural, cultural, artistic masterpiece. A highly charming place which seizes and conquers with its beauty, stateliness and grandeur. On the last floor, just above Diana's Gallery and one step below the sky, there is Dolce Stil Novo's restaurant. It is the only restaurant inside a royal palace, with a breathtaking view over the Gardens, the Fishpond, the Courtyard of Honor and the Deer Fountain.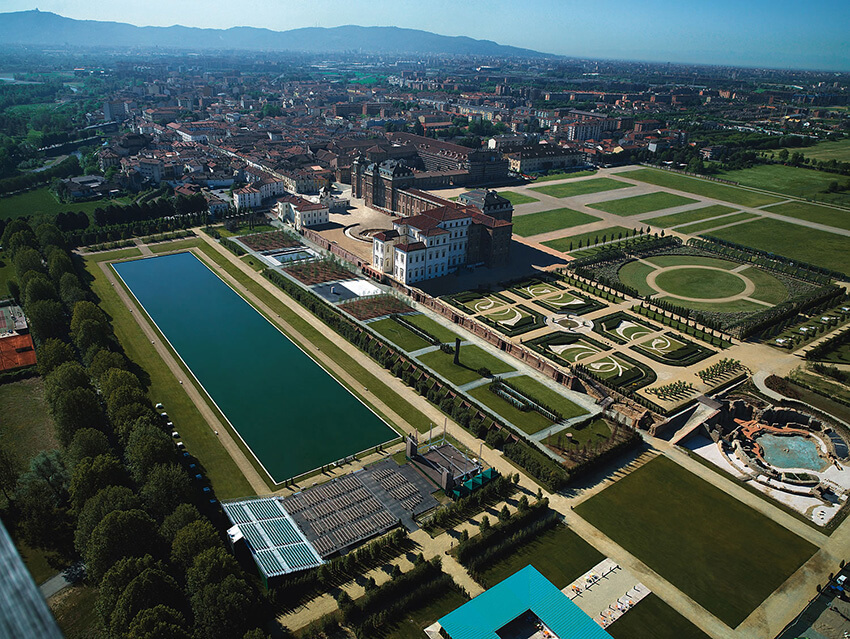 Dolce Stil Novo is open Tuesday from 7.30 pm to 10.30 pm; Wednesday to Saturday from 12.30 pm to 2.30 pm and 7.30 pm to 10.30 pm; Sunday from 12.30 pm to 2.30 pm
Piazza della Repubblica, 4 – Reggia di Venaria, 10078 Venaria Reale