From high mountain passes to river-carved valleys, sunny coasts to rolling vineyards, Italy's geographically diverse terrain is paradise for cycling enthusiasts. Scenic routes make for epic journeys packed with all the joys of the open road.
Bike tourism continues to grow in popularity as active travelers appreciate the destination immersion that a cycling vacation affords: getting close to the landscape with a front-row seat to the scenery, combined with cultural attractions and gourmet stops along the way.
According to the Italian National Tourist Board, cycling vacations are so popular among U.S. travelers that a number of tour operators specialize only in bike tourism. Throughout the country, there's high demand for both self-guided and organized tours. Of the top routes, the seven-night Bolzano to Venice tour starts in Bolzano, renowned for the dramatic landscapes of the Dolomites and the archeology museum that hosts the alpine iceman, Ötzi. Then takes in the Adige River Valley and Lake Garda. The famous cities of Verona and Padua follow after touring the vineyards in South Tyrol, before concluding in Venice. Other favorite routes include Venice to Florence, connecting the two romantic cities by way of vineyards and charming villages. The Via Francigena route, which starts in Siena, showcases the glorious Tuscan countryside before finishing in Rome.
Slated to be completed sometime this year, Ciclovia Garda ("Garda by Bike") is an 87-mile route started in 2018 that circles the crystal-clear waters of Lake Garda in northern Italy. The Italian National Tourist Board also notes a new route called Ciclovia Vento that's in the works. Connecting existing trails from Turin to Venice and continuing along the Adriatic Sea, the project would create a new bike path that's more than 800 miles in length.
Puglia, located in the "heel" of Italy's boot, has been wildly popular, while the Tuscany Bike Tour is an eternal classic, the best of the best hotels, wine, meals, and absolutely charming local personalities. Expert guides and local connections are essential to create unique itineraries for small-group cycling vacations. There is also an intimate Chef on Wheels Bike Tour available, with local chef Stefano Righetti, who was born and raised in the mountains above Lake Garda. At 16, Chef Stefano entered the restaurant world in Lake Garda, spending six years at Michelin-starred Vecchia Malcesine.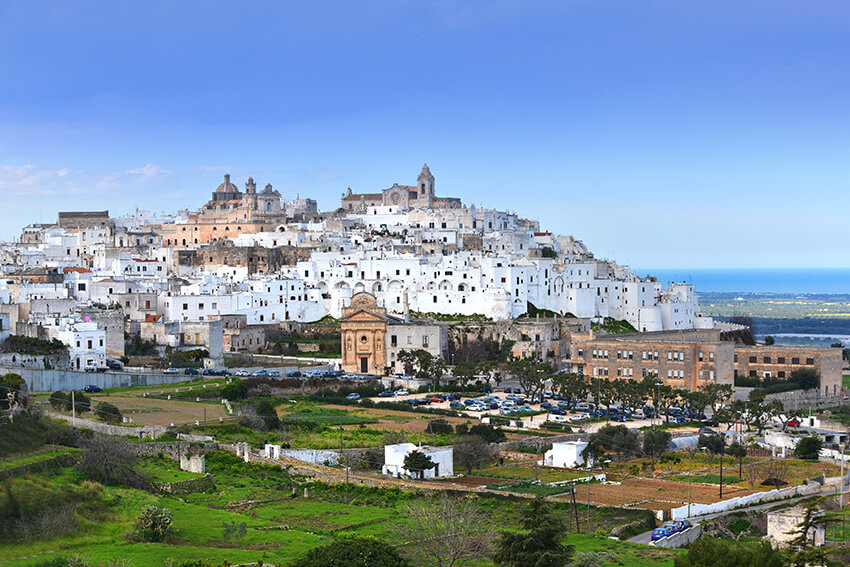 We found two companies that offer excellent bike tours throughout Italy:

https://ciclismoclassico.com/destinations/italy-bike-tours/
https://www.duvine.com/region/europe/italy/