The Day of Lovers on February 14 has more to offer than chocolates, red roses and candlelight dinners. Valentine's Day is the ideal opportunity for a romantic getaway for two. If you are looking for inspiration about a trip with which to surprise your loved one, here are five ideas for celebrating love with a romantic weekend in Italy.
A food and wine tour in the historic villages of Trentino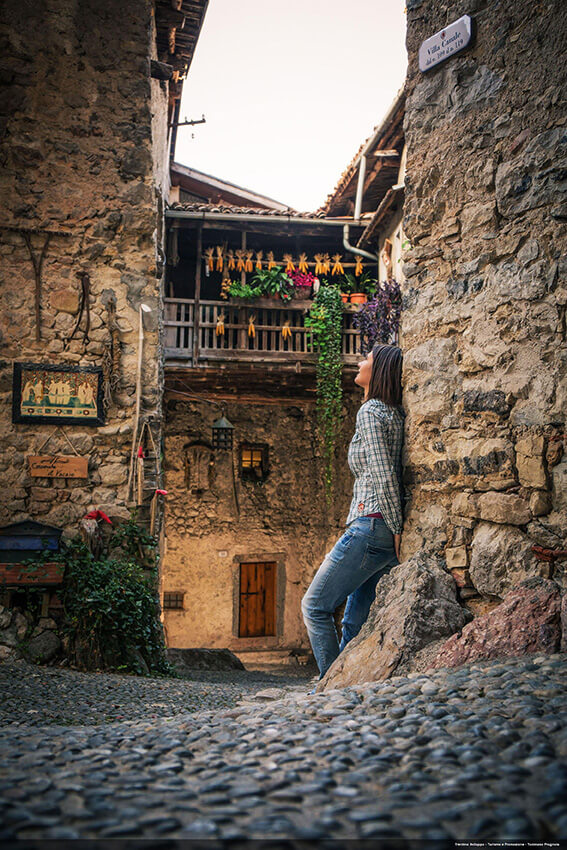 In its valleys the Trentino region encompasses a host of small romantic villages – recognized by the association of "Borghi più Belli d'Italia" ("the most beautiful villages of Italy") – with stone houses, courtyards and old barns, each offering home-style recipes worth tasting, the ideal locations for a romantic trip to celebrate Valentine's Day. Your couple's itinerary can start from Canale di Tenno, a medieval village on a hill overlooking the turquoise waters of Lake Tenno. A little further on, you'll find Rango, an amazing example of rural alpine architecture. After a walk hand-in-hand among its barns and cobbled streets, make sure you try the famous Bleggio walnut pie. From here, you can set off again towards San Lorenzo in Banale, set between the Brenta Dolomites and Lake Garda. Scattered over seven hamlets, this village is an invitation to discover ancient rural traditions and tasty traditional food.
Overlooking Lake Idro you'll find Bondone, an ancient village of coalmen. There you can venture into its labyrinth of lanes admiring the frescoes that decorate the facades of the houses. Try an energizing polenta carbonera, a hit of the cuisine from Trentino. Then move to the eastern side of Trentino to discover romantic Mezzano. The village at the foot of the wonderful Pala Group will bowl you over with its cataste e canzei, a permanent exhibition of wooden architectures. Before leaving try tosela di Primiero, a local cheese best sampled with polenta and luganega from Trentino. Your romantic tour through the historic villages of Trentino can end in Vigo di Fassa, a sunny village from which you can admire the Marmolada, the queen of the Dolomites, as she turns pink at sunset. Don't miss out on visiting a couple of museums and tasting typical Ladin dishes like cajoncie da fighes and cher de fascia.
Three days immersed in the beauty of Maremma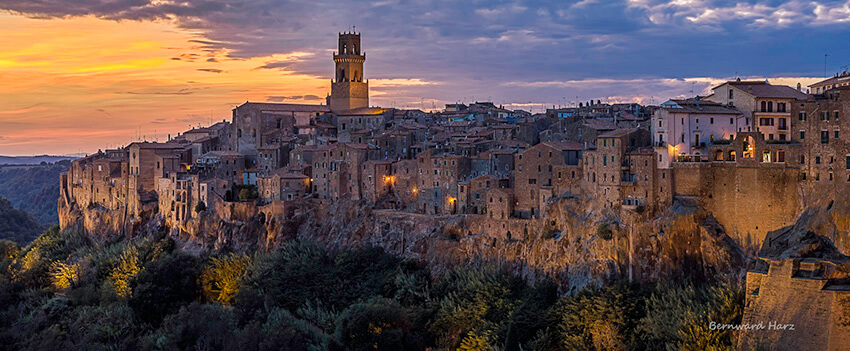 If you want a Valentine's Day at a slow pace dedicated to wellness and culture, we recommend a romantic weekend in the Maremma area, in southern Tuscany. Enjoy thermal springs, historic villages and idyllic landscapes. Your ideal starting point could be Saturnia. The town features an archaeological park hosting ruins from the Etruscan and Roman ages, striking natural waterfalls of thermal water – the Cascate del Mulino – as well as some of the most famous thermal baths in the world, dating as far back as ancient times. Having left Saturnia, head for Sovana, in the heart of the Tuff area. Sovana is a noteworthy Etruscan center, medieval and Renaissance village, and episcopal center. It will amaze you with its houses carved out of tuff and its exquisite medieval palaces. Just beyond it, you'll come across Sorano. The ancient city was founded in the most flourishing Etruscan period. Browse workshops of the craftsmen and women who make and sell picturesque ceramic artefacts, visit the Renaissance fortress and the archaeological park of the City of Tuff, with its necropolis carved into the rocks.
Your next stop will be Pitigliano, a center built thousands of years ago, located on a cliff, also carved out of tuff. Plan your visit at sunset, and treat your eyes to a host of breathtaking, romantic views. Pitigliano preserves traces of prehistoric settlements, Etruscan tombs and Roman ruins. You can also stroll through the old alleys of the Jewish ghetto, which earned it the title of "Little Jerusalem". Appreciate the excellent white wines produced locally, especially the Bianco di Pitigliano. To round off your romantic trip, we recommend Capalbio. This historic village is surrounded by walls and full of medieval architecture, skimmed by the rolling hills of the Maremma scrub and unspoilt beaches. Last but not least, before leaving, take a stroll in the beautiful nature reserve surrounding the shores of Lake Burano.
A romantic weekend at Lake Garda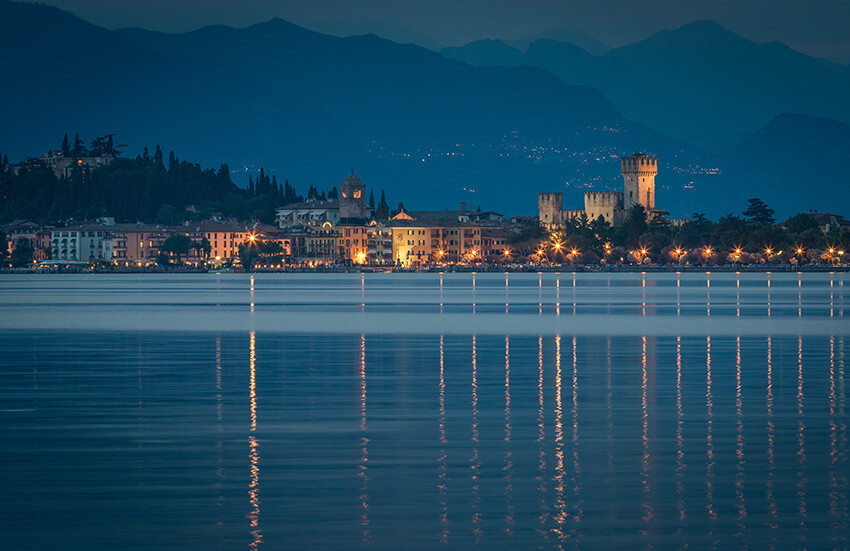 Lake Garda offers the right combination of relaxation, nature and culture, perfect for a Valentine's Day packed with ideas and attractions. The most suitable location for your sweet weekend for two has to be Sirmione, with its peninsula stretching out on the lake, its striking views and historic center. Sirmione is fascinating to cover on foot, to explore attractions like the Scaligero Castle and the Roman ruins of the Grottoes of Catullus, and the location's characteristic alleys. It is also an amazing destination to visit on board a motorboat, for an ultra-scenic perspective of this beautiful town. As well as the rich cultural wealth offered by its historic center, Sirmione is also an ideal venue for a relaxing trip thanks to its famous thermal baths, overlooking the lake, as their famous waters have unrivalled therapeutic and preventive properties.
In the evening, head to nearby Desenzano. Enjoy an aperitif and dinner, and take a romantic walk along the walls of the Castle, admiring the lights of the lake from above. Your romantic tour can then continue further north, in Gardone Riviera. It is one of the most famous resorts of Lake Garda, affording amazing views of Mount Baldo. Here you can visit the "Vittoriale degli italiani", residence of Gabriele D'Annunzio. A little farther on, you'll find the renowned center of Salò, rich in history, architecture and art, where you can stroll along the pretty lakefront or enjoy some typical Garda cuisine, with delicious dishes made from freshly caught fish.
Recharge your batteries in an original maso in South Tyrol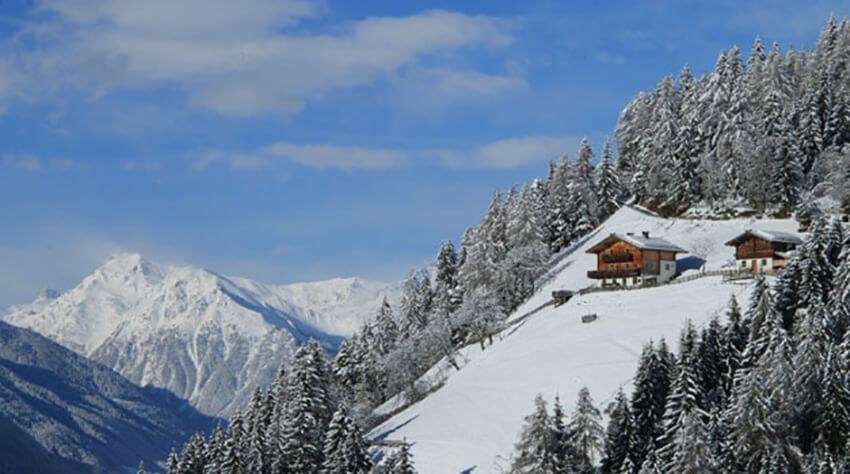 If you want to pamper yourself with a Valentine's Day dedicated not only to the mind and body, but also to the palate, choose something different. A trip of discovery to South Tyrol, and a stay in one of its traditional masi, ancient rural homes turned into cozy agritourism facilities and excellent bed & breakfasts. In the masi of the "Gallo Rosso" group, 1.600 'holiday farms' scattered all over South Tyrol, in both isolated and central locations, you can enjoy an out-of-the ordinary experience, rediscovering old agricultural customs at a slow pace. This is the perfect occasion to taste some authentic flavors, enjoy rural life surrounded by nature and also recuperate your psychological and physical wellbeing with hay saunas, milk baths, detoxifying treatments and reinvigorating massages.
And while relaxing the mind and pampering the body, it's then time to take care of your taste buds. The host of the maso will offer you the chance to taste the typical home cooking of South Tyrol, full of local produce and characteristic flavors. You will also learn how to recognize herbs and the virtues of plants, secrets handed down from generation to generation. And if there is some other aspect of country life that interests you, aside from wellness, just ask! There is a maso for all needs and tastes: in addition to masi dedicated to wellness, in the Gallo Rosso group you will find also masi specialized in sports activities, food & wine, organic farming and historic houses, all perfectly kept, providing you with the ideal opportunity to immerse yourself in the splendor of bygone days.
Valentine's Day in Verona, the city of love
If for Valentine's Day you want to spend a weekend with your partner in the ultimate romantic location, there is only one obvious choice: Verona, the city where Shakespeare set the most famous romance of all times: that of Romeo and Juliet. The myth of the two lovers lives again in the medieval Juliet's House, but also in the ancient squares of the city, its lanes, courtyards, fascinating views and along the meanders of river Adige. To mark Valentine's Day, the city of Verona is organizing the event Verona in Love. From February 10 to 14, 2023, the most atmospheric corners of the city, from Piazza Bra to Juliet's House, will be decorated and illuminated in red; there will also be markets in the city with local handicrafts (in the classic heart shape), tastings, guided walks for couples in search of the secrets and legends of Romeo and Juliet, themed evenings and many other romantic surprises. New this year is a music competition for young Italian cantautori, where the best love song will be awarded the Premio Arte d'Amore. Sports enthusiasts, on the other hand, can prove their fitness in the footsteps of Romeo and Juliet in the half marathon on February 13 through the city of love.