Slow traveler, aesthetics fan or culinary connoisseur?
With the abundance of hotels and destinations, it's easy to lose track. Would I prefer an active vacation with sauna in the evening? Or rather culinary experiences with friends? Do I dream of luxury and relaxation or am I looking for relaxation in nature? But which hotel and destination suits me best? We might have the answer. Tell us which vacation type you are – and discover the most beautiful hotels according to your wishes!
Sustainability
Slow travel as a lifestyle
Sustainability is not a trend for you, but a lifestyle. Do you value regional food, are you careful about what you consume, and do you want a hotel that is also conscious and climate-neutral in its approach to life? Here are two hotels that will make you happy. That's a promise!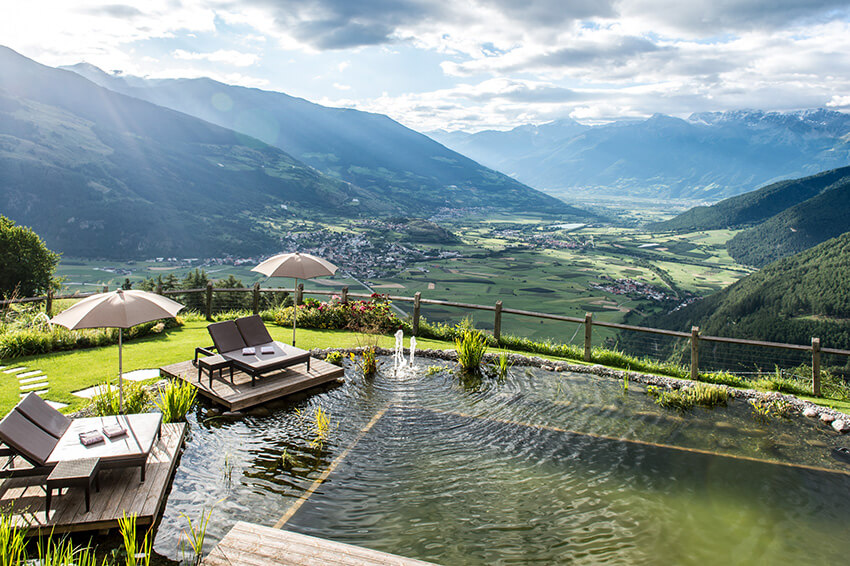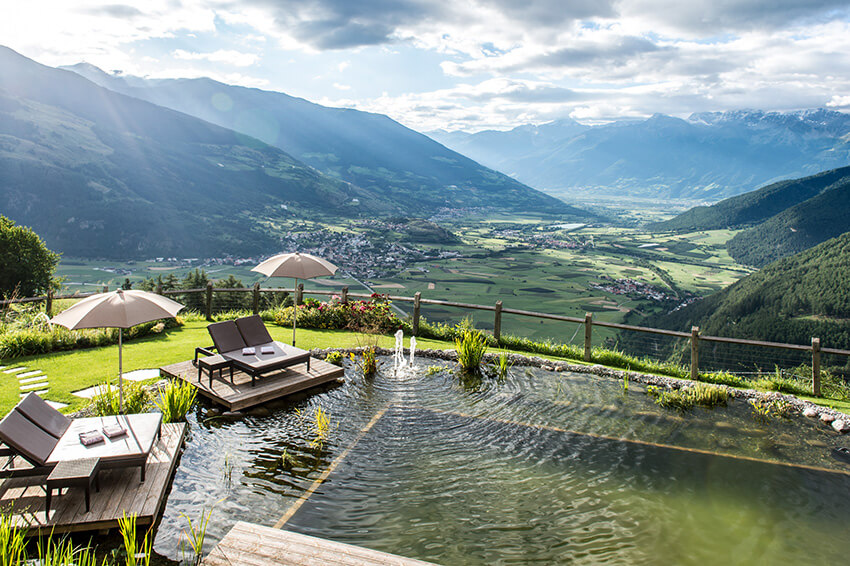 The Alpin & Relax Hotel Gerstl in the Val Venosta puts great value on regional food from the immediate surroundings. Whether in the infinity pool, the natural bathing pond or the sauna, the mountain view is always included. Recharge your batteries, feel tranquility and absolute liberty. At this place, where familiar hospitality, modern style, South Tyrolean tradition and strong holiday emotions are unified, the beauty of life is put in the center of attention, every day.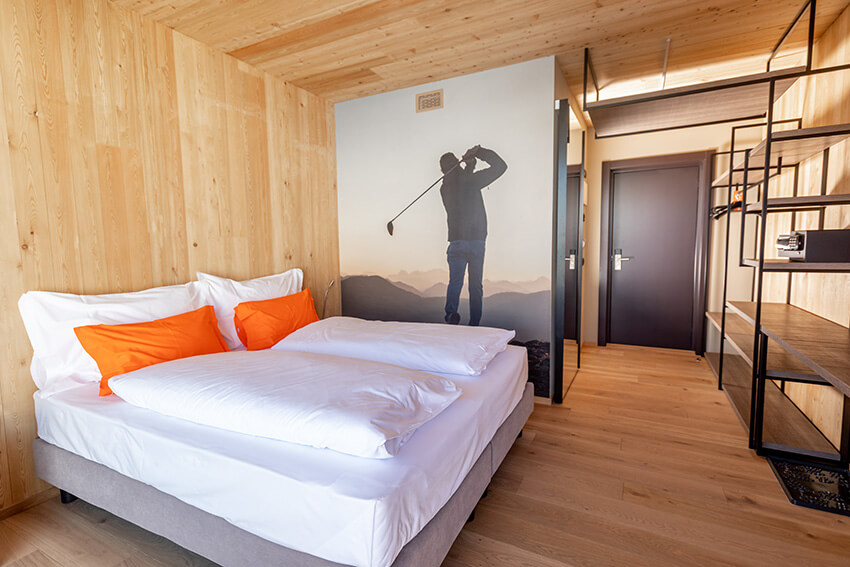 Montivas Lodge in Livigno is built entirely from ecologically valuable materials. In addition to a completely sustainable energy concept, a first-class organic breakfast awaits you in the morning. At Montivas Lodge ethics meets aesthetics. The building was built exclusively using environmentally friendly materials to make your sustainable holiday and the words go for green a reality.
Wellness
Warm and cozy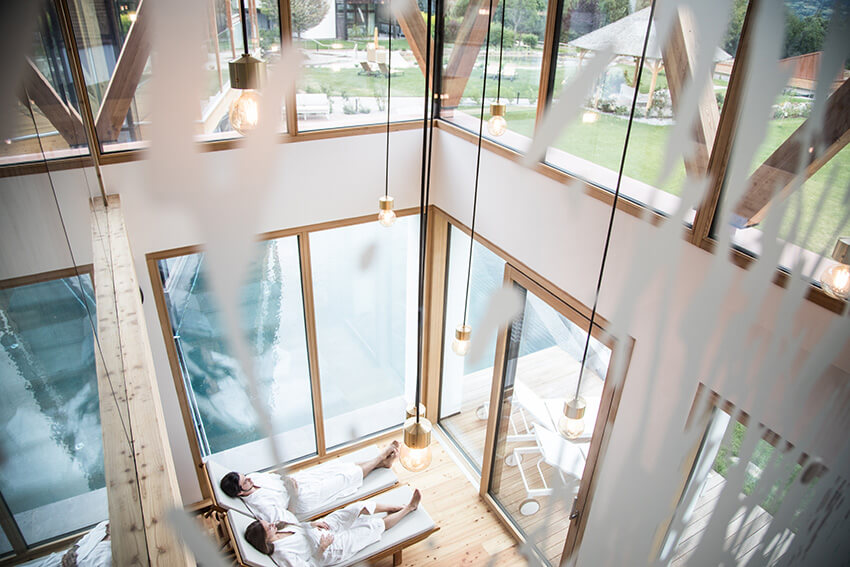 Every visit to the sauna is relaxation for you. Nothing relaxes you more in the winter months than pleasant scents and cozy warmth? Then off you go to the Garberhof in South Tyrol. A unique spa with a large pool area and sauna worlds awaits you here. The special thing: Italy's largest Hamam, which takes you to a world of ethereal scents and a special cleansing ritual. Surrounded by sunny orchards, the hotel merges with the scenic beauty of South Tyrol. It's an oasis of tranquility where you will find the ideal conditions to experience a feeling of total freedom.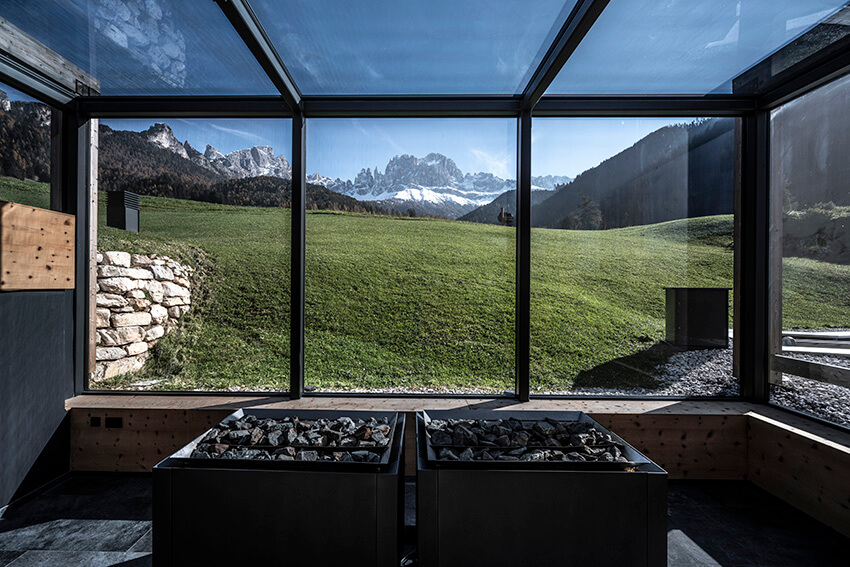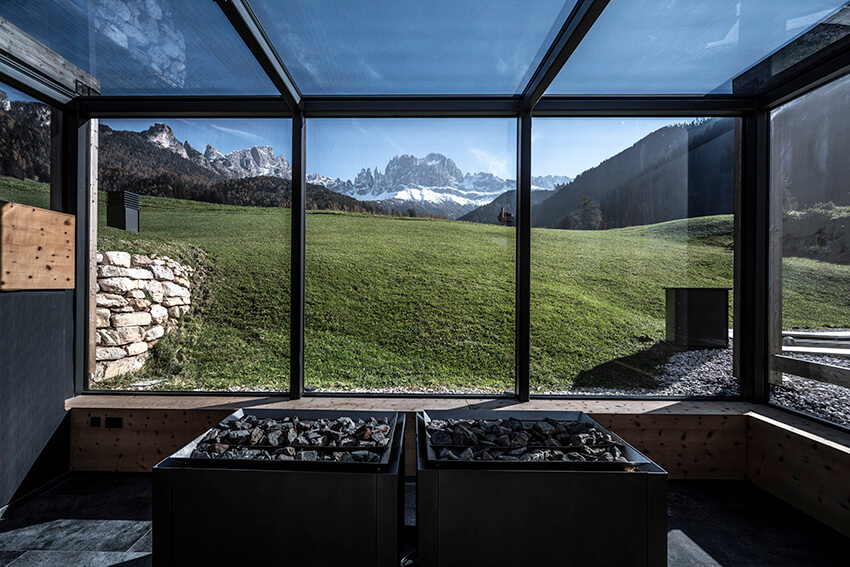 The Cyprianerhof in the Dolomites of South Tyrol is a wonderful place to unwind. Here you can not only look forward to the breathtaking panorama of the Rosengarten, but also to the brand new Similde Spa. Jump into the pool with Dolomite water, enjoy an infusion in the glass sauna or a bubble bath in the whirlpool – mountain view included. The close connection to nature is reflected in the hotel. The impressive Catinaccio/Rosengarten rises impressively in front of the 5-star hotel. It is a sight that inspires the eyes and touches the soul.
Luxury
No wishes remain unfulfilled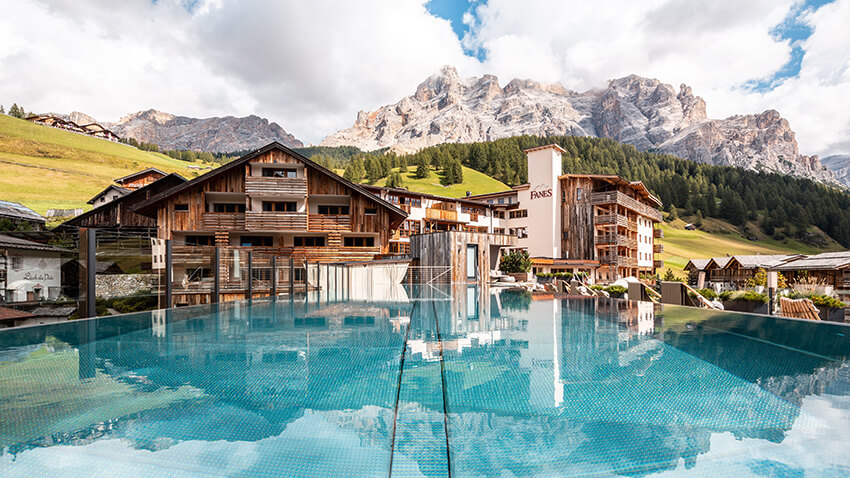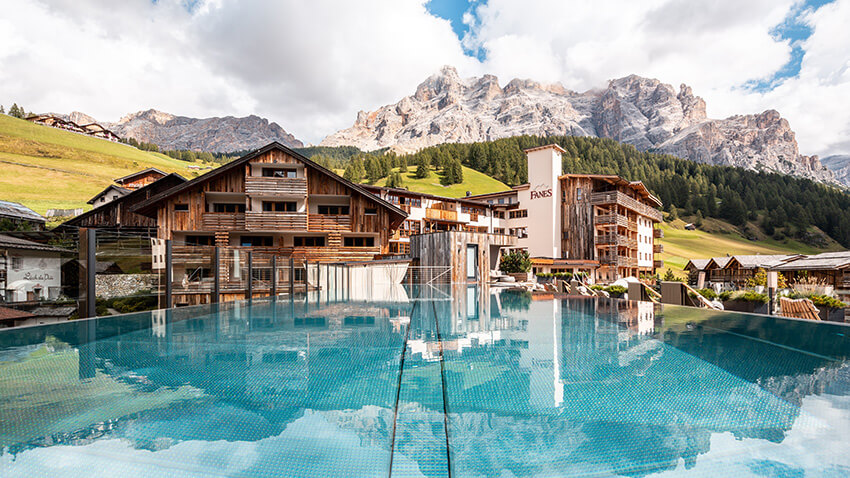 No infinity pool, no you. When you go on vacation, it may – no, must – be unique and luxurious. True luxury can be experienced at the five-star Hotel Fanes in the South Tyrolean Dolomites. Whether in the sky pool or in the private whirlpool: Here you relax at the highest level. The hotel in Alta Badia, in the heart of the Dolomites, lies in the picturesque scenery of the village of San Cassiano. It is a charming and elegant destination where you breathe a centuries-old art of welcoming. A precious place for regeneration and special attentions.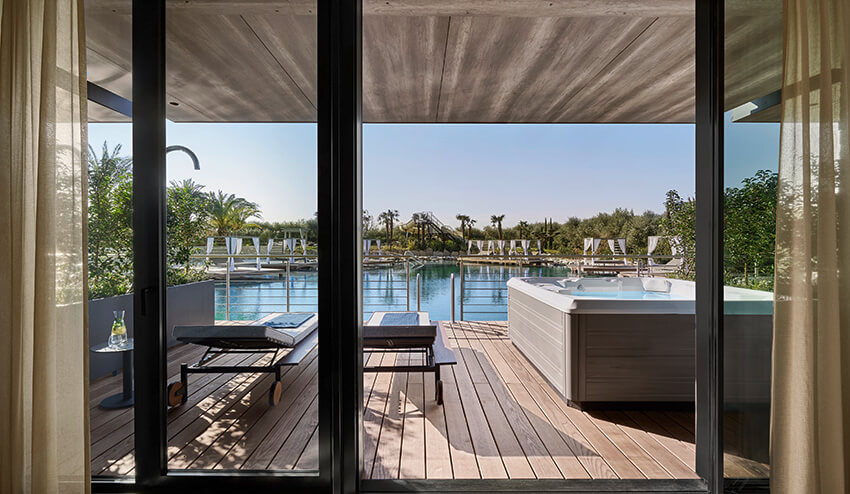 Alternatively, head to Lake Garda: The Quellenhof Luxury Resort Lazise awaits you with an excellent pool and wellness paradise on 21,000 square feet. You can sleep in luxurious suites and glamorous private villas. It's Dolce Vita pure at Lake Garda. Surrounded by olive trees, above the small medieval village of Lazise and only a few minutes away from the extensive southeast shore of Lake Garda.
Design
Here beats the aesthetic heart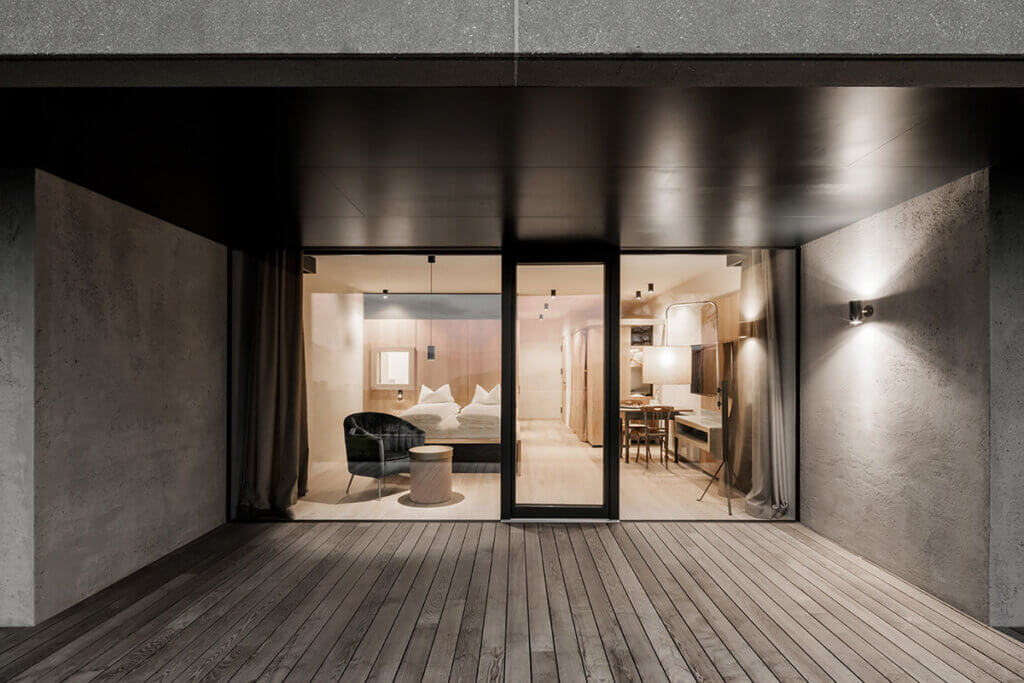 You love design and innovative ideas. When choosing your hotel, aesthetics also play a role. The more inspiring, the better. The Parkhotel Holzner in South Tyrol is sure to make your design heart leap for joy. Let yourself be captivated by the charm of the Gründerzeit and discover modern elements in the midst of history. Built in 1908, the hotel is located 4,000 feet above sea level on Ritten Mountain, and offers a stunning view of pastures and forests, lovely hills, and rugged mountain peaks. It is an alpine refuge surrounded by fresh mountain air and ancient giant trees. All that only a 15-minutes cable-car ride from the city center of Bolzano.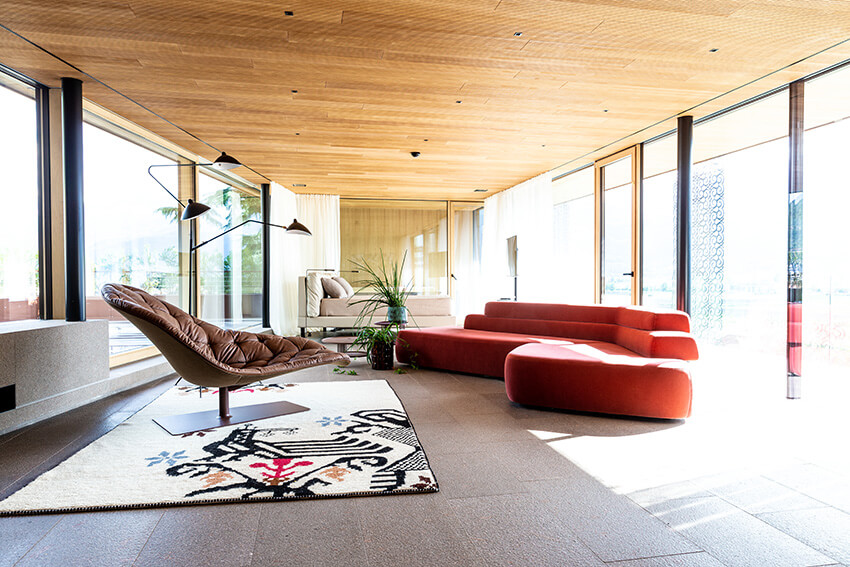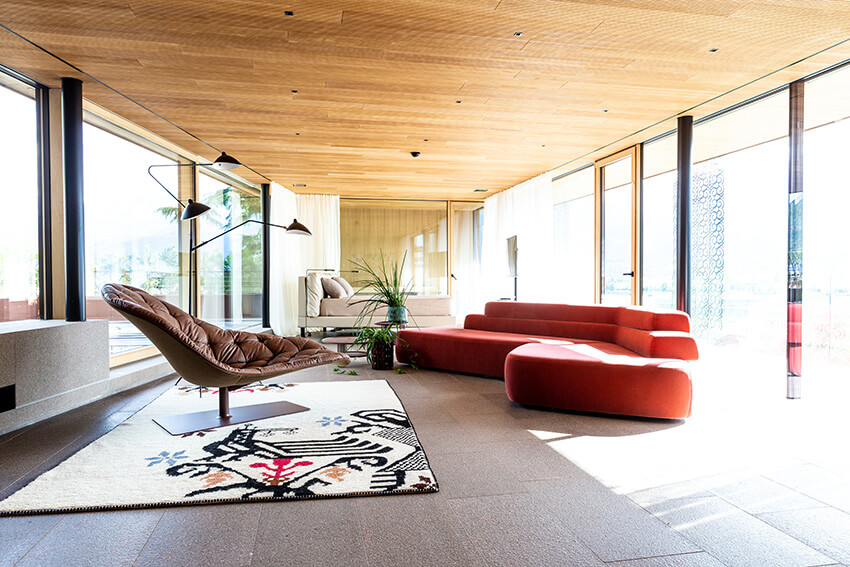 Another tip: Hotel Muchele near Merano. 40 modern suites and excellent food await you. Wine lovers, architecture fans and free-spirited souls love the easy-going atmosphere that prevails here. Best of all, if you like the Moroso furnishings, you can buy a few pieces right away. A hotel as a showroom, so to speak. If that's not something for design lovers. Hotel Muchele is part of the Vinum Hotels South Tyrol, top vacation addresses for everyone who wants to experience wine culture up close.
Water
Time out by the lake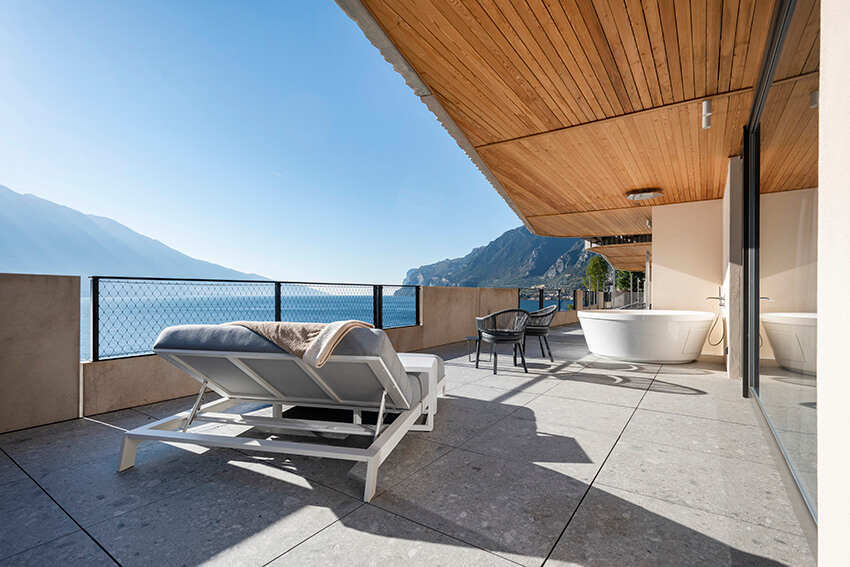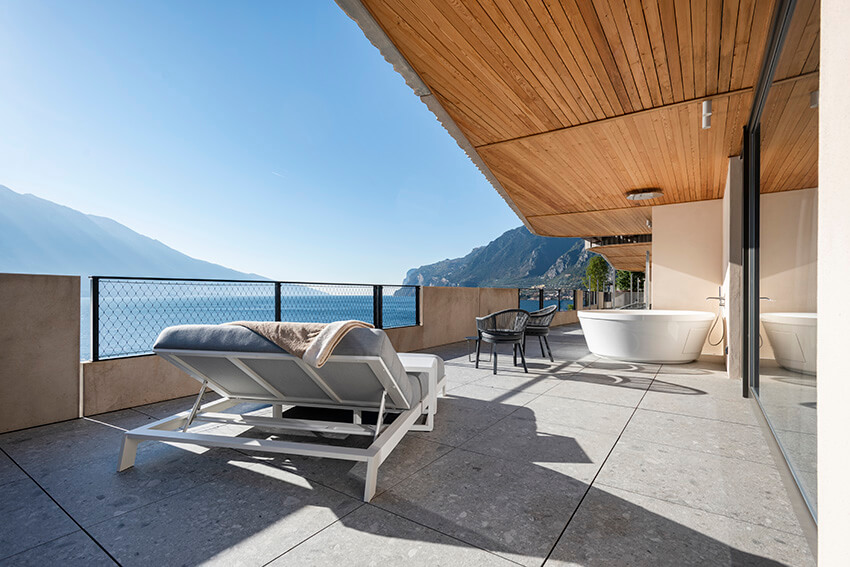 Whenever you sit by the water, you are happy. A vacation without sea or lake – hardly imaginable! Then off to Lake Garda to the five-star luxury hotel EALA in Limone sul Garda. This exclusive 5-Star L hotel on Lake Garda is inspired by and owes its name to a wonderful animal that has always lived on the shores of Lake Garda: the swan, eala in Celtic. Enjoy the view in the spa or while swimming in the infinity pool. If you prefer to jump directly into the lake, a private beach area on the lakeside awaits you. In the evening, enjoy dinner in one of the two restaurants – with a view of the lake, of course.
A bit further north, near Bolzano, the Hotel Seeleiten welcomes you to Lake Caldaro. Two lake accesses including a sunbathing lawn and beach bar ensure wonderful days on the water. Directly in front of the hotel on Lake Caldaro there is a wonderful, spacious Mediterranean park with numerous secluded retreats that invite you to relax and sunbathe. The heated natural swimming pool in the green holiday oasis provides pleasant refreshment in between. You can also go out on a pedal boat or rowing boat, or on one of the hotel's own stand-up paddles.
Wine & Dine
La Dolce Vita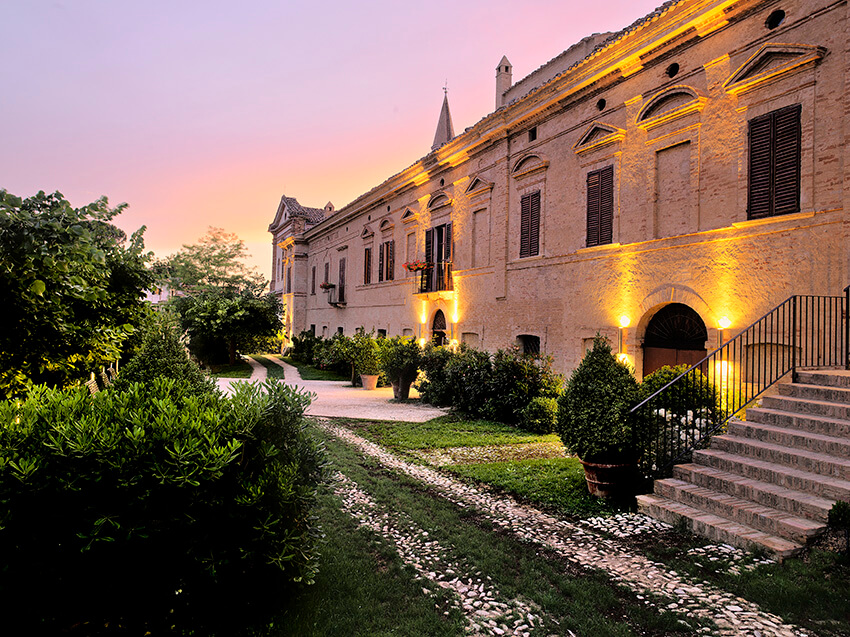 For this vacation type we travel a bit further south. Vacation means for you: Dolce Vita! You want to enjoy the days, be pampered with culinary delights and just enjoy. Then you should definitely go to the Boutique Hotel Castello di Semivicoli in Abruzzo. A place that is perfect for those seeking peace and quiet and wine lovers. There are only eleven individual, charming rooms. During the day the main thing here is to enjoy life – with good food and even better wine. Visit the Masciarelli winery estate and cellar or, during the grape harvest, watch and appreciate the development of their wines, from the vineyards to your table, through a constant and patient work. If you want to enjoy the flavors of Abruzzo, they organize dedicated cooking classes. For explorers they provide bike rental and organize excursions and guided tours.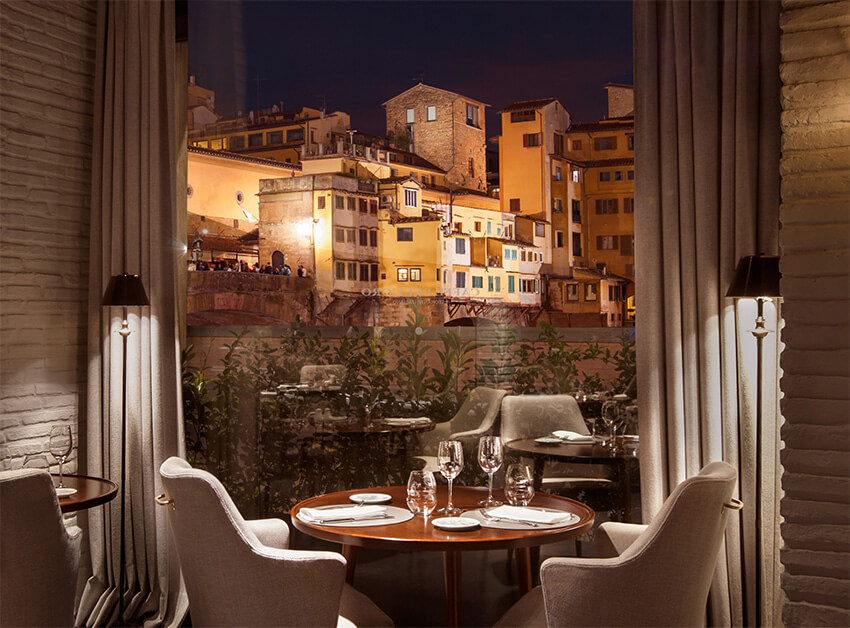 If you prefer a livelier atmosphere, you can stay at one of the five hotels in the Lungarno Collection. Whether in Florence or Rome, here you can enjoy the hustle and bustle of the city and a luxury hotel in one. From romantic spaces to an eclectic taste of the contemporary, from classic Italian style to a new concept of bespoke hospitality, each hotel in this exquisite collection boasts a unique personality.